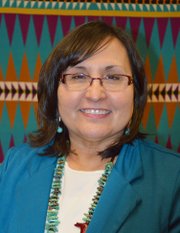 Haskell Indian Nation University's next president is a longtime school insider, a trait she says will help her be effective in the position.
Venida Chenault, Haskell's vice president of academic affairs since 2004, will become the school's president effective Sunday, the federal Bureau of Indian Education announced Friday.
Chenault, a Lawrence resident, attended Haskell as a student and has held several faculty and administrative positions at the school dating to 1991. She said her love for the university, its potential and its long history in Indian education are among reasons she wanted to be its president.
"I have witnessed from multiple vantage points the difference that Haskell makes in the lives of our students, and to see that potential realized is one of the most amazing experiences," Chenault said.
In the past five years, Haskell has been led by more acting presidents than permanent ones. Haskell's last president, Chris Redman, resigned in May after two years in the job. Since his departure, Haskell's chief of finance Michael Lewis has been the school's acting president.
The university also has weathered public problems. Haskell's athletics programs are on National Association of Intercollegiate Athletics probation through 2014, and a U.S. Department of Education report detailed instances of academic fraud in the athletics department between 2007 and 2010.
Chenault expects challenges in her new role.
But she said being plugged into Haskell and the Lawrence community would help her "rapidly regain momentum" for the school, especially in building partnerships, one of her key goals.
"Collaborations and partnerships, because of the turnover, I think have waned, and I'm looking forward to renewing those kinds of opportunities," she said.
Chenault said preparing for the school's next accreditation review — slated for the 2014-2015 school year — would be another big priority. Other goals include improving Haskell's retention and graduation rates; prioritizing and realigning resources to meet the school's academic mission; and increasing autonomy and authority for Haskell, she said.
Bureau of Indian Education leaders praised Chenault's commitment to the school and Indian education.
"Dr. Venida Chenault is an experienced administrator whose leadership at Haskell Indian Nations University and strong commitment to American Indian higher education is well-known among her students and colleagues," bureau director Charles Roessel said in a news release. "Her familiarity with the needs of students, her respect for the school community and her vision for the institution itself has made her the right choice as Haskell president."
Seven candidates for president visited Haskell for in-person interviews in late October, and finalists were interviewed in Washington, D.C. The bureau's job posting listed the president's salary range as $114,000 to $148,000 per year.
Haskell, which offers associate's and bachelor's degrees, is one of two higher learning institutions operated by the Bureau of Indian Education, which runs the federal school system for American Indian and Alaska Native children from federally recognized tribes. According to the bureau, Haskell's enrollment averages more than 1,000 students per semester.
Chenault, 56, is a member of Prairie Band Potawatomi and Kickapoo tribes and grew up in Topeka. She has four grown children — two are Haskell graduates and one is a current student.
Chenault attended Haskell in 1975 and in 1984. She earned her bachelor's and master's degrees in social work from Kansas University, where she also earned a doctorate degree in philosophy.
Chenault called Haskell an integral part of the Lawrence community, particularly because of its economic impact and diversity. She said in the school's nearly 130 years, Haskell alumni have made marks across the country.
"Even though we're what seems like a small college, the impact that we've made throughout the nation is unparalleled," Chenault said.
Copyright 2018 The Lawrence Journal-World. All rights reserved. This material may not be published, broadcast, rewritten or redistributed. We strive to uphold our values for every story published.