It takes no stretch of the imagination to see how British culture has had an effect on American culture. Have you heard of the shows "Downton Abbey" and "Doctor Who"? Or perhaps that little group called The Beatles rings a bell?
Yes, we Americans seem to have a keen fascination with British lifestyle, music and even British royalty. Must I remind you of the event that took place July 22, 2013? Here's a hint: Google "George Alexander Louis." For those of you who know all of the references I've just made, let's throw a high-five in the air for our local source of all-things British: Brits!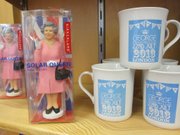 Located downtown, Brits is Lawrence's "purveyor of British goods." This store has been in existence since 1995 and specializes in British food, including chocolate, tea and more. While I've stopped by this shop on occasion to pick up tea (the selection is truly unmatched), I recently took a few minutes to appreciate the lovely craftsmanship of the pottery items, the quirkiness of the pop culture knickknacks, and the impressive collection of rental DVDs.
Let's start with the food items. Beyond basic preserves and biscuits (which are expected), Brits also has sections of "grub," "scram," "tin foods" and "baking," with lots of breakfast items, cooking ingredients and condiments. They also have a cooler for cold, perishable items such as drinks, cheeses and more.
Brits also offers some of the finer items that are closely associated with the English, such as exquisite tea pots and delicate tea cups. The assortment of tea pots and cups is almost as extensive as their variety of teas! It certainly made me daydream of hosting a fancy-schmancy tea party and practicing my British accent. Do you fancy one lump or two?
Of course, Brits also hosts a wonderful selection of "Doctor Who" items (including a blazer styled after the one Matt Smith wore on the show), an astounding amount of souvenirs dressed in the British flag, and adorable Big Ben and double-decker bus gifts — not to mention a sweet baby blue celebratory mug with George Alexander Louis' date of birth. Plenty to love and appreciate here. Until next week, cheerio, mates!
— Jessica Pauly, aka Mrs. Mass., gives her thoughts on shopping, urban living and what's new in Lawrence in CheckOut weekly and on her blog, mrsmass.com.
Copyright 2018 The Lawrence Journal-World. All rights reserved. This material may not be published, broadcast, rewritten or redistributed. We strive to uphold our values for every story published.