I have two new year's resolutions: one, to have my garden so nice that the Master Gardeners will beg to feature it at the next Garden Tour; and two, next year I will have an Arnold Schwarzenegger body. It may not be so much that I start — but rather quit — doing some things, and now is a good time.

Clueless watering
Make a promise not to drown your plants. This applies to houseplants, annuals, perennials, turf and young trees. Too much water, too little water, plant symptoms look the same and production decreases. Research each plant's moisture requirements and water accordingly. Some like it dry — others like wet feet.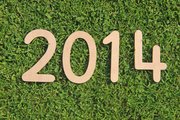 Gluttony is a sin
Stop the haphazard fertilization and quit overfeeding. Plants produce energy from sunshine. Plant nutrients, including fertilizers, allow this production to happen. Too much food at the wrong time is detrimental.
Dormant plants and those suffering from drought do not want food. Most plants need a little stress to promote flower and fruit production. Overeating in us produces fat.
Overfeeding plants gives an increase in vegetative growth and less fruit. A well-balanced feeding schedule is the recommendation.
An exception is organic material. I am not sure you can ever have enough added organic material. Organic material is the fruit and vegetables of plant food.
Stop your site assumptions
Full sun plants must have 6-8 hours of direct sunlight per day. Shade plants only want indirect sun, all day. So-called sun/shade plants? Now you are on you own. Planted outside these specifications, plants may survive but will not produce to our expectations.
We are now in Climate Zone 6, having to do with temperature ranges. Plants that have not grown up in or naturalized to this zone may suffer. A crepe myrtle tree in Georgia becomes a woody shrub in Kansas. Always check the plant label or trusted reference.
Stop applying random chemicals
Read the label. Look for what issues the chemical (even organic) is good for.
Weed killers won't kill bugs and bug killers won't help leaf spot. Too little of the recommend mixture may not work and just be a waste of money. Too much chemical may not work either and be an even larger waste of money. Apply at the right time. Treat weeds when they are actively growing, insects when they are young, and fungus before the damage. Identify the real problem before any application.
Most importantly, read the label.
I probably won't make the Tour, but doing all these things will get me into an also-ran category. The Arnold Schwarzenegger thing? Well, that's just out.
Copyright 2018 The Lawrence Journal-World. All rights reserved. This material may not be published, broadcast, rewritten or redistributed. We strive to uphold our values for every story published.