Photo Gallery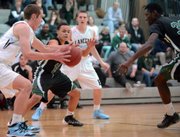 Free State-SM East boys basketball game
Prairie Village — Shawnee Mission East challenged Free State High's boys basketball team to make jump shots as the Lancers played a zone for the majority of the game.
The Firebirds couldn't answer the bell as they struggled shooting the ball in a 52-44 loss on Tuesday night.
In the first three quarters, FSHS shot a dismal 21 percent from the field, including going 3-for-15 from downtown.
"Some nights they're not falling and we have to find other ways to be successful," Firebirds coach Chuck Law said. "We couldn't find any other ways. We were so reliant on the three and when they weren't going in, we got consistently more and more deflated."
It was a stark contrast for the Firebirds, who shot 60 percent in their win last Friday, as they fell behind 18-10 at halftime.
"We just didn't make shots," said senior Cole Moreano, who led the Firebirds with 17 points. "Credit to the guys giving the other guys good looks. We just didn't make shots. When you have 10 points in the first half, it's hard to win a game."
The Lancers held a 31-16 lead early in the fourth quarter, before FSHS was able to string together a 8-0 run through three-pointers by Weston Hack and Tristan Garber, as well as a layup by Innocent Anavberokhai to cut the deficit to 31-24.
While Shawnee Mission East was able to push back with an 8-0 run of its own, when the Firebirds went 0-for-6 from the field in a two-minute span, FSHS was able to cut the score within eight with 1:09 remaining after Moreano scored nine of the team's 13 points in a 11-7 spurt.
"We started to make some shots and feed off it a bit," Law said. "Hitting three-pointers sometimes is like fool's gold. Sometimes they're going in and you become too dependent on them and I think there was a little bit of that based on maybe how we shot the ball last Friday night."
The Firebirds finished the game shooting 7-for-32 from behind the three-point arc.
"It's frustrating to see us make shots (on Friday) and then the next game not be able to," Moreano said. "But that's what happens."
In the second quarter, Blake Winslow gave the Firebirds a one-point lead with 5:45 remaining before half, but Shawnee Mission East jumped on a 8-0 run as FSHS didn't score for more than three minutes.
Free State will face Olathe North in Lawrence on Friday.
---
Free State (44)
Blake Winslow 1-3 1-2 3, Weston Hack 1-4 0-0 3, Reshawn Caro 2-7 0-5 4, Keegan McKinney 2-6 0–0 5, Khadre Lane 0-3 0-0 0, Justin Narcomey 0-5 0-0 0, Tristan Garber 4-8 0-0 10, Cole Moreano 6-13 2-3 17, Innocent Anavberokhai 1-2 0-0 2. Totals 17-52 3–5 44.
Shawnee Mission East (52)
Colin Burns 1-3 2-2 5, Joey Wentz 3–4 5–5 11, Lucas Jones 4-5 0-0 8, Luke Haverty 1-1 8-10 11, Gunnar Englund 2-2 5-8 9, Jay Guastello 4-7 0-0 8, Matt Nestler 0-1 0-0 0. Totals 15-23 20-25 52.
Free State 5 5 6 28 — 44
SM East 8 10 11 23 — 52
Three-point goals: Shawnee Mission East 2-9 (Burns, Haverty); Free State 7-32 (Moreano 3, Garber 2, McKinney, Hack). Fouled out: Caro. Turnovers: Shawnee Mission East 17, Free State 11.
Copyright 2018 The Lawrence Journal-World. All rights reserved. This material may not be published, broadcast, rewritten or redistributed. We strive to uphold our values for every story published.