Photo Gallery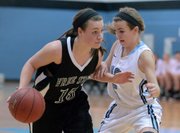 Free State-SM East girls basketball game
Prairie Village — For stretches in the second half against Shawnee Mission East on Tuesday night, Free State High's girls basketball team had to play without its top two scorers — freshman Madison Piper and senior Scout Wiebe — because of foul trouble.
Despite losing their offensive power, and despite Wiebe's disqualifying fifth foul with more than two minutes remaining, the Firebirds had a chance to win the game in the final seconds.
Coming out of a timeout with 14.3 seconds remaining, and Free State trailing by two points, Piper attempted a three-pointer that bounced off of the back rim. SM East's Erin McGinley came up with the rebound and Kyle Haverty knocked down two free throws with 8.1 seconds left to beat FSHS, 38-34.
"That was a set play, designed for her to get a three for the win," FSHS coach Bryan Duncan said. "We really executed well on that play. It just didn't go down."
Both Wiebe and Piper picked up their fourth fouls within a minute of each other in the third quarter, with the Firebirds trailing 27-24.
While FSHS (2-5) wasn't able to score another basket in the quarter, junior Adriana Jadlow was able to limit any damage by grabbing four rebounds and holding the Lancers off the offensive glass.
"They're really our two kids who can create plays when we're stagnant (offensively), and with them out, it really put us in a bind on the offensive end," Duncan said. "But we kind of overcame that a little bit, we just fouled too much early and put us in trouble all night. We couldn't contain any of their guards."
The Lancers had a 31-24 lead in the fourth quarter before Wiebe and Piper combined for a 5-0 run to bring the score to 31-29 with 4:53 left. SM East added another field goal before Wiebe picked up her last foul on an illegal screen.
The Firebirds were down 36-31 before Jadlow was able to score three points, making her free throw after being fouled on a putback with 38.4 seconds left. The Lancers missed their subsequent two free-throw attempts, which led to Piper's three-point attempt for the lead.
"It was the look I wanted, but it just didn't fall," said Piper, who grabbed a team-high eight rebounds.
The Firebirds began the game with a 7-0 lead, as Piper provided five points and junior Hannah Shoemaker scored on a jump shot.
Sophomore Hannah Walter added two points in the first quarter, while Wiebe and Jadlow combined for four more as FSHS took a 13-9 lead into the second quarter.
However, the Firebirds couldn't build any momentum as they shot 13 percent from the field in the second quarter and trailed 20-17 going into halftime.
"We just had no energy," Piper said. "The second and third quarter, we just didn't come out as a team. We didn't come together, we were just scattered and it was just bad."
With the fouls accumulating in the third quarter, FSHS couldn't play the defense it wanted to, and as a result, gave up some open looks to Shawnee Mission East.
"We certainly knew we were still in the game, but then it gets tough because those two playing with four (fouls), they have to be a little extra careful," Duncan said. "They're also aggressive defenders, so it made us play a little different.
"We didn't with much enthusiasm. The bigger issue was we were just very undisciplined in our assignments on both ends of the floor."
Free State will face Olathe North at home on Friday.
---
Free State (34)
Adriana Jadlow 2-5 2-5 6, Madison Piper 5-12 2-2 14, Scout Wiebe 3-9 2-2 10, Millie Shade 0-6 0-0 0, Hannah Shoemaker 1-2 0-0 2, Hannah Walter 1-2 0-2. Totals 12-36 6-11 34.
Shawnee Mission East (38)
Kyle Haverty 2-6 5-10 10, Emily Dodd 1-2 1-2 3, Hannah Nick 3-7 0-0 8, Erin McGinley 2-6 7-10 12, Molly Ross 2-4 1-2 5, Angela Lanza 0-1 0-0 0, Emma Braasch 0–2 0-0 0. Totals 10-28 14-24 38.
Free State 13 4 7 10 — 34
SM East 9 11 9 9 — 38
Three-point goals: Shawnee Mission East 4-13 (Nick 2, Haverty, McGinley); Free State 4-17 (Piper 2, Wiebe 2). Fouled out: Wiebe. Turnovers: Shawnee Mission East 12, Free State 11.
Copyright 2018 The Lawrence Journal-World. All rights reserved. This material may not be published, broadcast, rewritten or redistributed. We strive to uphold our values for every story published.