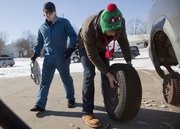 Tuesday forecast
Temperatures are expected to improve slightly Tuesday, with a high near 33 and wind chill values between minus 4 and minus 14. The National Weather Service predicts a low of 16 with slight winds Tuesday night.
A wind chill advisory issued by the National Weather Services ends at 9 a.m. Tuesday. The advisory cautions against frostbite and hypothermia and recommends wearing layers, a hat and gloves to protect from the bitter cold.
Record low temperatures in Lawrence
Though the temperature dipped to minus 9 degrees on Monday, it did not break any records. Here is a list of the lowest temperatures recorded in Lawrence from 1996 to 2014, according to the National Weather Service:
minus 19 on Jan. 28, 1997
minus 16 on Feb. 10, 2011, and Dec. 22, 2000
minus 15 on Feb. 3, 2011, Dec. 9, 2005, and Jan. 2, 2001
minus 14 on Jan. 10, 2010
minus 12 on Jan. 13, 2011, Dec. 8, 2005, and Feb. 8, 2004
(The National Weather Service does not record wind chill values)
An influx of Arctic air that gripped much of the country on Monday sent temperatures in Lawrence well below zero, paralyzing cars, bursting pipes and keeping children home from school.
Temperatures in the Lawrence area dipped to minus 9 degrees Monday morning with wind chill values as low as minus 25. The temperature did not break records, but the National Weather Service does not keep records on wind chill, the combined effect of the temperature and wind on exposed skin, which was a major factor Monday.
Sgt. Trent McKinley, a Lawrence Police Department spokesman, said officers received several requests Sunday night and Monday morning to check on people and animals out in the subzero conditions.
"For the most part I think people didn't want to get out and about," McKinley said. "But there was one person that did end up going to the hospital because of exposure to the elements."
In an effort to keep people inside, the city of Lawrence extended the time allotted for homeowners to clear sidewalks of snow and ice from the typical two days to four. Even so, some took the time Monday to shovel snow off sidewalks and driveways.
Kansas University student Brandon Currie shoveled the driveway at the Alpha Epsilon Pi fraternity house Monday afternoon when the temperature reached about 5 degrees. Though dressed in several layers of clothing, Currie had to take short breaks during the process.
"I go inside every now and then to drink coffee," Currie said. "I just felt like I needed to shovel before it gets too bad."
Stephen Keys, of Lawrence, spent most of Sunday and Monday shoveling snow and laying rock salt for Lawrence businesses.
He covered himself head-to-toe in boots, coveralls, a hat and gloves.
"I have lots of layers," Keys said. "I'm used to central Iowa weather, so I'm covered."
Causing problems
In addition to creating a hazard for Lawrence residents, the subzero temperatures took a toll on vehicles and pipes.
Mike Capra, owner of Vito's Plumbing, 645 Locust St., said he spent the day responding to reports of burst pipes at residences throughout Lawrence.
"Pipes are breaking, water meters are freezing — it's bad," Capra said. "I get a few calls about pipes breaking every now then and during the winter, but this is unusual. It's brutal."
While Capra responded to burst pipes, the AAA Roadside Rescue Team went out on more than 50 calls in Lawrence on Monday, most regarding battery and starting issues or frozen locks.
Rich Johnson, owner of Rich Johnson Automotive, 1410 N. Third St., arrived at his shop just before 10 a.m. Monday, anticipating a busy day. In cold weather, Johnson said, engines can freeze if antifreeze levels are low, and cold weather puts more pressure on car batteries.
Mechanics at Academy Cars Service, 1527 W. Sixth St., worked on two cars by late morning that weren't running because of problems caused by the cold weather.
"The battery was bad on one, and the other is overheating profusely," said employee Randy Ledbetter.
Cold temperatures closed schools across northeast and north-central Kansas, including in the Kansas City area, Topeka, Lawrence, Manhattan and Salina. Schools were open in Wichita. Tonganoxie schools remain closed on Tuesday.
In Topeka, the Rescue Mission had four people out searching for homeless people. Its director, the Rev. Barry Feaker, said the team goes out regularly to help the homeless, connecting them with services and helping them find shelter, but the Arctic weather is making the job more urgent.
He said the team began making the rounds of homeless camps last week to warn their residents that the severe cold was coming,
"Some will just hunker down and stay there," Feaker said.
Copyright 2018 The Lawrence Journal-World. All rights reserved. This material may not be published, broadcast, rewritten or redistributed. We strive to uphold our values for every story published.