Photo Gallery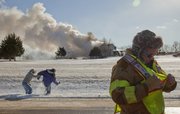 House fire in county
Firefighters from several area township fire departments respond to a house fire at 1056 E. 1479 Road, south of Lawrence, Monday afternoon. A continuous line of trucks delivered water to the firefighters throughout the afternoon as they battled the fire in single digit temperatures.
Firefighters from the Wakarusa, Osage, Palmyra, Lecompton and Clinton fire departments battled a house fire south of Lawrence on Monday afternoon.
Firefighters responded to reports of a structure fire at 1056 East 1479 Road around 1 p.m. Lt. Steve Lewis, a spokesman for the Douglas County Sheriff's Office, said the fire began in the garage and spread. It's not clear how much damage has been caused.
Residents of the home, Andy and Mary Fry and their children, were uninjured.
"The wife and kids were home at the time of the fire because school was called off," Lewis said. "They were able to get out safely and are currently with friends."
The cause of the fire is not known. Check back for updates as they develop.
Copyright 2018 The Lawrence Journal-World. All rights reserved. This material may not be published, broadcast, rewritten or redistributed. We strive to uphold our values for every story published.