Contact KU and higher ed reporter Sara Shepherd
Have a tip or story idea?
---
More stories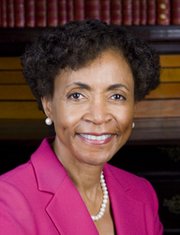 Kansas University Chancellor Bernadette Gray-Little has joined the public opposition to an academic boycott of Israeli higher education institutions by the American Studies Association.
The boycott began in December after a vote by American Studies Association members. The ASA is a national group devoted to the interdisciplinary study of American history and culture made up largely of American studies scholars and departments.
The boycott was approved by two-thirds of voting members. Although only about 30 percent of members voted, the ASA said it was the largest number of participants in the organization's history.
The ASA is one of a few such scholarly associations to boycott Israeli universities in protest of Israeli treatment of Palestinians and American military support of Israel. The ASA said the resolution was "in solidarity with scholars and students deprived of their academic freedom and it aspires to enlarge the freedom for all, including Palestinians."
The boycott means the group will not collaborate with Israeli higher education institutions or their officials and representatives. However individual members of the organization are still free to collaborate with Israeli scholars and researchers.
Critics of the boycott say punishing Israeli schools and institutions restrains the free flow of ideas and knowledge more than it safeguards the freedoms of Palestinians.
In the past three weeks Gray-Little signed separate letters that publicly oppose the boycott. The letters were issued by two groups that Gray-Little recently joined: the Executive Committee of the Association of American Universities and the Executive Committee of the Association of Public and Land-Grant Universities.
The AAU letter, released Dec. 20, stated that the AAU "strongly opposes a boycott of Israeli academic institutions" because "any such boycott of academic institutions directly violates academic freedom."
In an interview Gray-Little said she first learned of the issue through reading about it in the media. Separately both organizations decided "it seemed appropriate that the organization would make a statement saying we value free, open discussion, communication and collaboration among universities and among faculty," Gray-Little said.
Asked if she also opposed the boycott in her role as KU Chancellor, Gray-Little said she would not have signed "if I had not agreed with the statements."
Henry Bial, an associate professor and chairman of the KU American Studies department, said in an email that most of KU's American Studies faculty are members in the ASA, but the department as a whole is not an institutional member and so did not take part in the vote.
With the boycott's announcement coming at the end of the semester, the department has not yet had a chance to discuss it, Bial said.
Copyright 2018 The Lawrence Journal-World. All rights reserved. This material may not be published, broadcast, rewritten or redistributed. We strive to uphold our values for every story published.