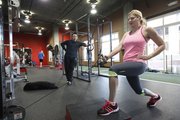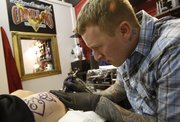 Another year has passed, and you've once again promised to follow through with your New Year's resolutions. To help make those promises stick in 2014, several Lawrence services available to people commit to them. Here are five resolutions to get you started:
Lose the bulge
This year we really mean it. Whether you're looking to shed several pounds or become a more active individual, the gyms in town provide the equipment to get you to meet your goals. Better yet, they have the personal trainers to force you to follow through.
The Summit, 901 New Hampshire St.
A monthly membership is a $67.99 base rate, plus the $199.99 one-time membership activation fee. Ask about various membership discount opportunities the gym offers throughout the year. The Summit offers boxing, cardio resistance and kickboxing classes on top of weights and cardio equipment. The gym also has a special space dedicated just for those working with personal trainers for those who want one-on-one help. There's even a patio out back for flipping semitrailer tires.
Genesis Health Club, 2339 Iowa St. or 3201 Mesa Way
The basic membership includes strength training and cardio equipment, various fitness, yoga and aquatic classes. The membership costs at Genesis are fluid so call in today to see what discounts you qualify for and start getting fit today. Call Genesis South at 749-6762. Call North at 842-4966.
Crossfit, 815 E. 12th St.
Crossfit training is a strength and conditioning program built on constantly varied functional movements at a high intensity. The unlimited monthly membership is $80. Membership costs vary based on time commitment, with the option of a lifetime membership. Watch a class for free at an open house session held every Tuesday night at 7:30.
Title Boxing, 1520 Wakarusa Drive
Burn up to 1,000 calories in just one power hour class. All of these fitness classes are centered on boxing and kickboxing with unlimited access to the gym, so if you need to pound on a bag to relieve some stress, this is the place for you. Call 371-001 for membership cost details.
Learn to cook
It's not about becoming the next Bobby Flay, but it would be nice to limit takeout and pizza to once or twice a week. Not only can you control what goes into each meal when you cook, but it's easier on the wallet to buy groceries once every couple of weeks. Does that not sound like a better quality of life?
Merc, 901 Iowa St.
From beginning to advanced, The Merc offers several affordable cooking classes each month that anyone can sign up for in the store or online to reserve their spot. January's classes include lessons in making winter salads, winter soups, Cajun cuisine and completely unprocessed meals. Many of the classes offer vegetarian options and offer samples, which has gotten a reputation for being dinner-sized. Classes start at $12.
Sweet! Baking & Cooking Supply, 717 Massachusetts St.
Don't let a few baked goods intimidate you. Sweet! offers a few classes each month depending on customer interest and teacher availability from beginner cake-decorating classes to seasonal cookie lessons. Classes for January 2014 have yet to be determined but check sweetbakingsupply.com for class schedule updates, as well as recipes and how-to guides.
Just Food
Started in 2012 by Rick Martin, former executive chef of Free State Brewery and current director of Culinary Arts at Eudora High School, Just Food offers demonstrative classes to give people experience cooking with food they received from the pantry. Just Food has seen 25 percent of the class graduates indicate that because they are learning a healthier way to cook with fresh produce, they no longer need the services of the Just Food pantry. Classes will start twice a week in January. To sign up for classes contact Leah Charles at 316-993-5324 or lcharles@justfoodks.org.
See the world
Think ahead now and plan the trip of your dreams. Local travel services will get you special deals, as well as plan your entire itinerary down to each hotel stay and meal. It's as easy as scheduling an appointment, talking about what you want, and letting someone else take the reins.
Lawrence Travel Center, 5014 Congressional Way
Catering to each traveler's needs, Lawrence Travel Center is dedicated to planning your "perfect vacation." Book through this agency and receive exclusive deals on resort properties. Spend nine days with your loved one in February 2014 on the featured Valentine's Tour of Ireland. Call 331-3311 for more details.
Travellers Inc., 831 Massachusetts St.
Interested in a guided group tour? Travellers has several planned for 2014, including an Irish Treasures Tour, a trip to New England and Cape Cod, and a guided tour of Albuquerque and Santa Fe. Call 749-0700 for more details.
Be more adventurous
1. Karaoke in public
If you haven't already, retire the karaoke machine that only makes an appearance once a year when your distant relative requests a sing off. Instead, drink some liquid courage, get up in front a crowd that is guaranteed to give you a standing ovation, and pay tribute to Amy Winehouse at one of the many regular karaoke nights in Lawrence.
Bottleneck, 737 New Hampshire St. (approximately 11 p.m. Sundays)
Jazzhaus, 926 Massachusetts St. (10 p.m. Mondays)
Replay Lounge, 946 Massachusetts St. (10 p.m. Mondays)
Burger Stand at the Casbah, 803 Massachusetts St. (10:30 p.m. Wednesdays)
2. Get that tattoo (finally)
One day it's actually going to happen. Whether you want a tiny outline of a star on your ankle or a fire-breathing dragon that wraps around your entire bicep, just close your eyes and keep telling yourself it's just a tiny needle. No couple tattoos, please. After all, we're trying to live 2014 without any regrets.
Depending on the size and color of your inked choice, the price will vary. Basic, small tattoos will generally start at $50. Face and neck tattoos will include an additional charge. Head into any of these tattoo studios for an estimate.
BDC Tattoos, 938 Massachusetts St.
Offering tattoo consultations, BDC does require calling in ahead of time to make an appointment unless you want to take advantage of walk-in hours every Saturday. Piercings are always done on a walk-in basis. Call 312-8288.
Ichiban, 1912 Massachusetts St.
Appointments are appreciated but not required, so if you finally work up the nerve to do it, rush into the studio as quickly as possible. There are two artists available to consult with you on your own idea or design a custom-made tattoo. Ichiban means "number one" in Japanese, if that sways you one way or another. Call 727-3080.
Skin Illustrations, 725 N. Second St.
Upstairs you can get a tattoo or piercing and on your way out, you can get a new haircut at the downstairs salon. They also offer hair coloring services, including "exotic" options. In other words, walk out of Skin Illustrations a completely new person for the New Year. Call 841-8287.
3. Jump out of a plane
Ready to freefall 12,000 feet from the sky? Carpe diem! YOLO! Whatever you prefer.
Skydive Kansas, 1613 East Laing, Osage City
With an experienced instructor, leap out of a plane, open your parachute and glide for several minutes safely back to the ground. There is a 30-minute training session before your first jump, and if you're feeling especially photogenic, request video or photographs of your freefall. Must be 18 years old and less than 220 pounds. $250 per person.
Try exotic food
Step away from the burger and fries. Seriously, put down that slice of pizza. This year, at least every once in a while, you're going to try a dish you've never seen before. How do you know you don't like it until you've tried it?
Jade Garden, 1410 Kasold Dr.
Skip the garlic chicken and ask for the "authentic" Chinese menu. With options like spicy hot pot pig's feet ($14.95), chicken feet or intestines, loaded with chunks of Thai chile peppers, this isn't a food adventure for the faint of heart. Ease your way into less familiar dishes by starting with duck noodle soup or dried pepper frog legs. Once you've gotten your sea legs, however, bite the bullet and order the pork blood and innards combo. Maybe it tastes like chicken?
Au Marché, 931 Massachusetts St.
Tag team two resolutions by stopping at this European grocery store to shop for some unique food items and trying some more advanced recipes. From Austrian preserves (d'Arbo preserves, $6.49) to Swedish porridge rice ($3.85) to Latvian fish (Riga Sprats, $2.99), Au Marché sells a variety of goods from abroad that you don't see every day unless you go out of your way to find them. Plus hoards of European chocolate. At least let that lure you into the building.
O Cafe, 1530 W. Sixth St.
Authentic Korean food means various noodle dishes, marinated meat, rice and dumpling soup. Don't let the names scare you; there's nothing to be afraid of here. Try the bibimbap ($9.95), a rice bowl of mushrooms, vegetables, your choice of meat (beef, pork, chicken) and a fried egg. If you prefer noodles, try the Jap Chae ($9.95), sweet potato noodles with spinach, carrots, mushrooms and onions.
Ramen Bowls, 125 E. 10th St.
The only ramen bar in Kansas, Ramen Bowls launched Japanese and Pacific cuisine in Lawrence during the fall, and people are loving this slurping action. Its most popular dishes are the Hakata Tonkotsu Shoyu Ramen ($9) and the Hokkaido Tonkotsu Miso Ramen ($10.50), both giant bowls of traditional Japanese ramen. For spice enthusiasts, try the Ghost ramen challenge. For $20, eat a large bowl of traditional miso ramen cooked with ghost peppers (aka bhut jolokia peppers), a chili pepper known to be the hottest pepper in the world. Those who make it to the bottom of the bowl receive the meal and a T-shirt for free, and make it onto the wall of fame.

Copyright 2018 The Lawrence Journal-World. All rights reserved. This material may not be published, broadcast, rewritten or redistributed. We strive to uphold our values for every story published.