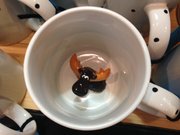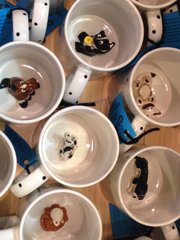 Although it appears to be a standard white, polka-dotted mug, finish your hot beverage in a Cheer Up Cup and discover a whimsical, handcrafted porcelain creature staring back up at you. Like Buzzfeed in mug, it seems Kathleen and Dee Swayze from Oregon have found another way to use cute, cuddly animals like teddy bears, cows, cats and butterflies to get a rise out of people. The Swayzes use sensitivity and humor in their sculptures with the objective of bringing pleasure to life through art. With these little guys, who can help but smile?
Where: Phoenix Gallery, 825 Massachusetts St.
What you'll pay: $19.50 each
About the store: The Phoenix Gallery opened 20 years ago as a small artist cooperative, and grew over the years to a large gallery featuring more than 300 local, regional and national artists. In this store, you'll find a variety of handmade ceramics, blown glass, jewelry, textiles and gifts for any occasion.
While you're there: Head to the back of the store to see the wacky robot clocks made from found and recycled materials. Be sure to read the placards next to each piece that describe the artist's background and the wide variety of pieces they work on, including those that aren't featured in the gallery.
Copyright 2018 The Lawrence Journal-World. All rights reserved. This material may not be published, broadcast, rewritten or redistributed. We strive to uphold our values for every story published.