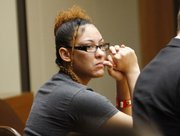 Seven months after seeing his father shot dead during an altercation at his Lawrence home, Jeremy Edens stood in Douglas County District Court and directed his gaze at the woman who pleaded guilty to the shooting.
"You took a good man's life," said Edens, 29, who appeared while in custody and serving an unrelated sentence in Henry County in Missouri.
He addressed 20-year-old Brittny Marie Adams, of Topeka, who was sentenced Friday to 155 months, or nearly 13 years, in prison for second-degree murder for the July 2013 death of Gary Edens, 51, at his home in the 600 block of Michigan Street.
As part of a plea agreement, Adams will serve her sentence on top of two additional felony counts of threatening a Douglas County Jail corrections officer, for which she was also sentenced to six months each. She must also be registered as a violent offender for 10 years following her sentence.
Adams did not address the court before District Judge Sally Pokorny handed down her sentence. During his brief statement, Jeremy Edens referred to his father's younger son from a separate marriage, who was 6 at the time of the shooting, and to two grandchildren who "have to grow up without a grandpa."
"That was a selfish act you did on July 17," Edens said. "I don't know if you feel any remorse or not over this. Only God knows that."
According to previous testimony, Jeremy Edens and Gary Edens engaged in a struggle with Johnathan Rush, 29, of Wichita, after Rush drove Adams to the Edens' home in search of her missing car. A Lawrence Police Department detective testified in December that Adams told investigators she had been abandoned in Topeka by two women who took her car.
An altercation began shortly after Rush and Adams approached Edens' door. According to federal court documents related to criminal gun charges brought against Rush following the incident, Rush later told detectives that while the Edenses struggled to gain control over Rush's handgun, a gunshot was heard and Gary Edens fell to the ground. Rush told investigators it wasn't his gun that fired.
Adams and Rush fled the scene in Rush's Pontiac Grand Am and made their way back to Topeka, where they were stopped by a Shawnee County Sheriff's lieutenant about 20 minutes after the shooting. Rush told detectives that Adams threw a handgun out of the window while on Interstate 70 on the way to Topeka and that she later threw Rush's handgun out the window shortly before being stopped in Topeka, according to the federal court documents.
Rush is now serving a 40-month federal prison sentence after pleading guilty in November to one count of unlawful possession of a firearm by a convicted felon. Rush had a prior felony conviction, for criminal possession of a firearm, in Shawnee County in 2005.
Adams, meanwhile, at one point saw charges against her increased to first-degree murder following a December preliminary hearing that featured testimony from a former Douglas County Jail cellmate who said Adams bragged about killing Edens. Adams later pleaded guilty, on Jan. 17, to intentional second-degree murder following plea negotiations. As part of the plea agreement, Adams will serve her prison time without filing departure motions related to sentencing or requesting probation.
Before Jeremy Edens finished addressing Adams, who remained silent for much of Friday's hearing, he compared her sentence with the loss of his father's life.
"You really got the good end of the bargain," Edens said.
Copyright 2018 The Lawrence Journal-World. All rights reserved. This material may not be published, broadcast, rewritten or redistributed. We strive to uphold our values for every story published.