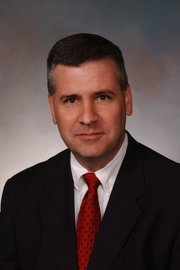 Lawrence once again is looking for a new leader for its top economic development organization.
Greg Williams, president and CEO of the Lawrence Chamber of Commerce, announced Wednesday that he is resigning the position, effective March 14, after determining that it was going to be difficult to find adequate employment in the area for his wife.
"In a sad way, it kind of points to the issue that Greg was trying to fix here with jobs," said Mike McGrew, chairman of the chamber's board of directors.
Williams was hired to be the city's top economic development professional about two years ago. Williams and his wife, Jennifer, have young triplets. Jennifer and the triplets have lived in Springfield, Mo., Williams' longtime home, while she kept her executive-level position in Springfield and looked for a job in the Lawrence area.
On Wednesday, Williams said he simply was tired of splitting time between Lawrence and Springfield.
"They're three-and-a-half years old," Williams said of his children. "They need their dad, and, frankly, their dad needs them."
McGrew said the chamber board hasn't set any timeline to find a new leader. Lawrence banker and former chamber chairman Doug Gaumer will lead the search committee, McGrew said. McGrew said Wiliams' decision was not unexpected and that chamber board members did have a strong desire for the chamber CEO to be a full-time resident of the community.
"We're not a big place," McGrew said. "Being able to bump into somebody at the game or the grocery store or on Mass. Street is a big part of living here. I know Greg didn't like missing that either."
Williams' successor will be the fifth CEO for the Lawrence chamber since longtime leader Gary Toebben left the job in 1999.
"In a perfect world, you would like to have more longevity in that position," McGrew said. "But I sure haven't given up on Lawrence or economic development. I think we'll have a lot of good people apply for the position."
McGrew and others praised Williams' energy for economic development. Williams came to Lawrence after serving as a top economic development executive in the Springfield, Mo., Chamber of Commerce.
"His vision and energy and enthusiasm have helped put us in a position to compete for projects that two years ago we wouldn't have even made the long list on, let alone the short list," McGrew said.
During his tenure, Williams increased the economic development marketing budget for the chamber and led efforts to create a new technical education school, the Dwayne Peaslee Adult Education Center, which is under development near 31st Street and Haskell Avenue.
"We've made real progress, more progress than we've made in several years, toward attracting new jobs to this community," said Jerry Samp, chairman of the Economic Development Corporation of Lawrence & Douglas County, a nonprofit organization that Williams also served as CEO.
Williams said he does not have another job lined up, and he likely will leave the chamber industry.
"I've put my blood, sweat and tears into this," Williams said of his time in Lawrence. "I've made a real effort to bring credibility and a strong reputation to the organization. I have made a lot of friends here, lifelong friends. It was a really hard decision, but I have a family that needs me."
Copyright 2018 The Lawrence Journal-World. All rights reserved. This material may not be published, broadcast, rewritten or redistributed. We strive to uphold our values for every story published.