Photo Gallery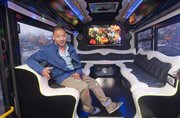 Customized party buses
In North Lawrence, in an old seed and grain warehouse, Le Tuan is building mobile man caves and video gaming buses.
It's not a new business. The 35-year-old Lawrence man has been customizing party buses under the Extreme Bus Builders label for four years. But he doesn't do retail sales, or advertise. He rarely customizes for anyone in Lawrence (he did transform a couple of local farmers' bus into a replica of a barn).
No, his business is done online, mostly with out-of-state customers who know what they want and are willing to pay for it. It allows Tuan to focus on the thing that really matters to him: souping up rides. He doesn't waste time talking to walk-ins who may or may not buy something. When someone calls him on the phone nowadays, it's pretty much a done deal already.
Ever since he was a kid growing up in Dodge City, where his parents had moved from Vietnam to work in the meat-packing industry, Tuan has been a builder. He would take apart toys. He would tinker with his mom's Pontiac Bonneville (something she would scold him for). "I've always been interested in how things work," he said. "I've always been a manufacturer."
As a teenager, Tuan was always the guy with the cool, souped-up race car with the bumping stereo. Since people would always ask him how he did it, he eventually decided to turn his hobby into a business.
After moving to Lawrence 15 years ago while his wife attended Kansas University (the couple has two daughters, 15 and 5), he started a car-customizing business, New Image Auto Salon. It was around the time of the popular MTV show "Pimp My Ride," where auto customizers would turn beaters into extravagant, plush, parties on wheels, equipped with the latest in technology. The business did well for a while, until, Tuan said, consumers increasingly started turning to the Internet for their customizing needs.
One day, he went to a friend's bachelor party that was supposed to be on a party bus. But then, a "raggedy old 1980s school bus" pulled up, Tuan said. "I refused to get on it. After that, I thought, 'I'm going to build one for us.'"
He started out building them in his driveway but a few years later, in part to please his wife, he moved his operation into the warehouse in North Lawrence.
His market is aimed at a certain consumer: people with a lot of disposable income or high-end party bus renters. Tuan said many rental companies just use repurposed school buses with no amenities. "I build limo buses, not booze buses," he said. He has even created a pink bus, he said, for "gays and cougars."
"In the Midwest, they're not ready for this," Tuan said. Prices range anywhere from $10,000 on the low-end to $30,000 on the fancier side. He even offers "party bus kits to go" for people who want to build their own.
He has a simple rule for his bus building: make it look cool. "It's not rocket science. I make it the way I would want it." The buses are filled with disco lights, stitched leather seats, sound systems, big-screen TVs, wet bars and whatever other features the customer asks for. One, going to a diehard Michigan State fan, was covered with Spartan logos; it also featured what Tuan called "the coolest Porta Potty ever."
The seats are hand sewn, though Tuan outsources that work to "a team of grandmas" in Kansas City. Still, he estimates he does about 80 percent of the customizing himself. And even though he has operated largely in anonymity, Tuan says he never lacks for business. A bus comes in, takes about four weeks to customize, is shipped out, and another one takes its place.
He hopes to open an amusement park in the next-door lot by this summer. He has already purchased, and is in the process of refurbishing, a carnival train and Ferris wheel. He plans to have a snow cone shack on the premises, and invite food trucks to park there, to save them the trouble of having to go through the city's permitting process. He is also building a gaming bus where people will be able to hang out and play video games on any one of a number of big-screen TVs.
"I'm trying to bring some fun to North Lawrence," Tuan said.
Copyright 2018 The Lawrence Journal-World. All rights reserved. This material may not be published, broadcast, rewritten or redistributed. We strive to uphold our values for every story published.