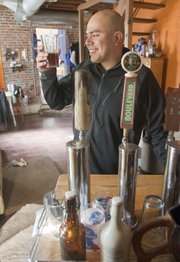 A bill that breezed through the Kansas House and is now about to be considered in the Senate would make it legal for homebrewers to share their craft with friends or competition judges instead of just their immediate family members. Which is good for homebrewer Sean Belden, because he's eager for constructive criticism.
"I can only serve to my family right now," said Belden, who lives between Lawrence and Baldwin City. "They may begrudgingly say it's great when it's not."
The bill would allow homemade beer, wine or cider to be served to guests and judges so long as the brewer isn't compensated.
The legislation is of particular interest in Lawrence, home to one of the state's largest homebrewers' guilds. Since the Lawrence Brewers Guild formed in 1995 with fewer than a dozen members, Belden said, it has grown to an average of 150 in recent years. Of that group, he said, three have "gone pro," landing jobs at Boulevard Brewery in Kansas City, Mo., and 23rd Street Brewery in Lawrence.
"Having feedback is a critical component of that," he said.
Belden recently prepared to help judge the annual Kansas City Bier Miesters homebrewing competition in Kansas City, Mo. He said the competition originally was set to take place in Kansas this year, but organizers discovered it would have been illegal for anyone to taste the entries.
The bill's journey through the legislature has been civil so far.
"I'm proud of the homebrewers who have done this in a very professional manner," said Ted Nguyen, a longtime downtown business owner and member of the Lawrence Brewers Guild who plans to open Ted's Tap House on Massachusetts Street in early March.
"The state and homebrewers have worked together for a good result and better understanding," Nguyen said.
Phillip Bradley, a lobbyist for the Kansas Home Brewers Alliance, said he has yet to encounter vocal opposition to the bill. Earlier this month, it passed in the House with a 111-7 vote and no one spoke out against it.
"Most people are surprised it's necessary," Bradley said. "They're surprised to find out that it technically isn't legal."
Prohibition was repealed in Kansas in 1948, 15 years after the federal ban of alcohol was lifted. Many of the state's alcohol laws, Bradley said, trace their origins to when the product was 100 percent illegal.
"It takes a little time to work through some issues," Bradley said.
Jeff Jensen, owner of Jensen's Liquors and a founding member of the Lawrence Brewers Guild, hopes to see the bill become law because he said the city has a vibrant homebrewing scene strengthened by social media and the growth of younger residents joining the guild.
"I think it just kind of legitimizes what we've already been doing," Jensen said.
Copyright 2018 The Lawrence Journal-World. All rights reserved. This material may not be published, broadcast, rewritten or redistributed. We strive to uphold our values for every story published.