Groundwater levels in western Kansas continued to decline last year, although at a slower pace than in recent years, the Kansas Geological Survey said.
Meanwhile, water tables actually rose in wells around south-central Kansas, mainly because of above-average rainfall in that region that reduced the demand for irrigation during the spring growing season.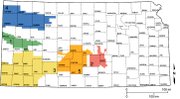 Those are the preliminary results of a survey of more than 1,400 wells conducted early this year by KGS and the Kansas Department of Agriculture's Division of Water Resources. Officials from the two agencies have been conducting the annual surveys since 1996.
"July and August saw some very high rainfall amounts across south-central Kansas, west-central Kansas and even into portions of drought-stricken southwest Kansas," said Brownie Wilson, water data manager for KGS. "Obviously, any time you can get your water demands satisfied by Mother Nature, the less you have to pull from aquifers and surface reservoirs."
Most of the wells surveyed lie within one of the state's five Groundwater Management Districts, which are governed by area landowners and large-scale water users to address water resource issues.
According to the preliminary data, water tables within GMD 3, in drought-stricken southwest Kansas, dropped 2.31 feet last year. During each of the three previous years, water levels fell by more than 3 feet. And since 1996, they have fallen nearly 35 feet, KGS said.
That region of the state continued to be plagued with drought last year. Much of the area received less than half the normal precipitation in 2013, and some areas received less than 25 percent, KGS said.
Within GMD 1 in west-central Kansas, water tables fell by only 0.79 feet last year. But much of that area has already been closed off to large-scale irrigation because of dramatic declines in previous years.
In northwest Kansas, water tables fell, on average, 0.76 feet last year — less than the 1.39 feet recorded after 2012. That area, which includes GMD 4, missed out on the above-average rainfall experienced in other parts of western Kansas in July and August.
Water in the High Plains Aquifer is sometimes referred to as "fossil water" because it lies hundreds of feet below the surface and is not directly recharged by precipitation.
In the area of Big Bend GMD 5, centered over the Great Bend Prairie Aquifer in west-central Kansas, water tables rose an average of more than half a foot. That came after two consecutive years of declines.
And in Equus Bed GMD 2, which covers parts of Sedgwick, McPherson, Harvey and Reno counties, levels rose more than 2.5 feet after declining more than 3 feet in 2011, and 1.64 feet in 2012.
According to KGS, groundwater in those areas is relatively close to the surface and lies beneath sandy soils that allow some recharge to reach the aquifer, while wells farther west lie deeper below the surface, beneath less penetrable rocks.
Copyright 2018 The Lawrence Journal-World. All rights reserved. This material may not be published, broadcast, rewritten or redistributed. We strive to uphold our values for every story published.