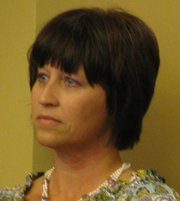 Topeka — The Kansas University School of Business has hired Cindy O'Neal.
O'Neal is chief of staff to House Appropriations Chairman Marc Rhoades, R-Newton, and a member of the Kansas Fair Board.
O'Neal is the wife of former House Speaker Mike O'Neal, who now is president and chief executive officer of the Kansas Chamber of Commerce.
Cindy O'Neal has been hired as a coordinator for the KU business school's Kansas Impact Project, which pairs Kansas businesses and non-profits with first-year MBA students who work on business solutions for their clients, according to KU.
Her appointment is part-time and her contract won't start until April 14, KU officials said.
In her role, she will help develop a new roster of clients for MBA students to work with next semester, according to KU.
According to KU, O'Neal's salary will be $30 per hour, and she will work no more than 999 hours, with a top salary of $29,970.
Copyright 2018 The Lawrence Journal-World. All rights reserved. This material may not be published, broadcast, rewritten or redistributed. We strive to uphold our values for every story published.