When my dear in-laws asked what we grown-up children — me, my husband, his sister and her husband — wanted for Christmas, there was very little debate. We like our new books and gadgets as much as the next family, but what we really all wanted was some time for our families to enjoy each other's company.
Of course, whatever we decided to do together had to be fun for the real children, too. At almost 11, my cute niece obviously has different interests than the Kid, my 3-year-old, so picking a destination that they both would enjoy was just a little challenging.
And that's how one Saturday in January, we ended up at Legoland Discovery Center at Crown Center in Kansas City, Mo.
After lunch at Fritz's and a little shopping, we were quickly whizzing up an elevator to learn how Legos are made. My mother-in-law wisely booked our tickets ahead online — which discounts entry from $17 per person to $15 per person (kids under 2 get in free) — so we avoided lines and got right to it.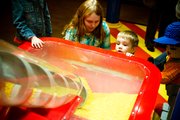 With three or four tactile exhibits that allowed the kids to feel like they were involved in the process, we joined in to watch the Legos change from small plastic pellets into the little bricks we know and love. My tall brother-in-law measured his height in Legos, and I bravely stepped on the scale to see how many Legos I weighed.
Then it was on to the main part of Legoland, which we were conveyed to by the Kingdom Quest Laser Ride. Grouping off in sets of four, we zapped spiders and trolls as the roller-coaster-like car zoomed us around. Our individual scores climbed higher with each shot, and unsurprisingly my Marine-trained marksman father-in-law emerged victorious.
While the initial parts of Legoland were pretty structured, the heart of it is a gigantic room made for free play. A pit of super-sized Duplo Legos caught the Kid's eye first. Then we ran through a huge, padded play structure before settling in near a set of test ramps where boys and girls — and maybe even a few mothers and fathers — could build Lego cars and race them against each other.
My cute niece joined us in racing cars, but eventually went off to a master builder class to learn how Lego models are designed and created. Then, we all caught up with each other for a short adventure movie in Legoland's 4-D theater.
I eventually had to stop for a drink at the snack bar, but I don't think many of the children there even realized it existed. The Kid was much too busy building and crashing towers of Legos on the earthquake tables with his aunt, and pretending to zoom on the child-sized scooter made of thousands of tiny red Legos.
All told, I think we were there for about three hours before someone finally started making reluctant mumblings about the drive home. After a little bit of spoiling the grandchildren in the gift shop and hugs goodbye, we climbed in our cars and headed for our separate parts of the state.
The Kid was conked out — the hard, sweet sleep of a child who has played well — before we even left the parking lot, so I quietly asked Sweet Husband, "Whose idea was it to do this instead of Christmas, anyway?"
He furrowed his brow and then smiled back gently at the Kid, "I don't remember for sure, but it really was a good one."
— Meryl Carver-Allmond lives in Lawrence and writes about chickens, babies, knitting, gardening, food, photography, and whatever else tickles her fancy on any given day at www.mybitofearth.net.
Copyright 2018 The Lawrence Journal-World. All rights reserved. This material may not be published, broadcast, rewritten or redistributed. We strive to uphold our values for every story published.