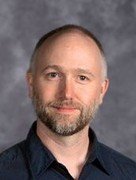 Eudora High School teacher Noah Musser will be honored this week as one of the outstanding new teachers in Kansas.
Musser is one of 32 Kansas teachers who will receive the 2014 Kansas Cable Telecommunications Horizon Award recognizing exemplary first-year educators.
Musser, who teaches visual arts at both the high school and the Eudora-De Soto Technical Education Center, was nominated by the district last fall. He submitted an application portfolio in October that included reflections on his transition from a previous career as a graphic arts designer.
"Noah is a great asset for our school and our students," said Ron Abel, principal at the technical education center. "He has a contagious enthusiasm for his content and brings a genuine concern and care for his students every day."
The award will be presented Friday during the Kansas Exemplary Education Network state conference meeting in Topeka.
Copyright 2018 The Lawrence Journal-World. All rights reserved. This material may not be published, broadcast, rewritten or redistributed. We strive to uphold our values for every story published.