Photo Gallery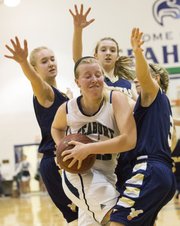 Seabury vs. Veritas
Box scores
GIRLS
VERITAS CHRISTIAN (49)
Hannah Gloss 4-13 1-4 10, Alyssa Krestan 7-16 2-3 18, Maci Dressler 1-3 0-2 2, Ashley Boland 1-3 0-2 2, Caitlin Brever 0-1 0-0 0, Alison Tichenor 2-3 2-2 6, Tori Huslig 5-11 1-3 11, Emma Wilson 0-1 0-1 0. Totals 20-51 6-17 49.
BISHOP SEABURY ACADEMY (60)
Celia Taylor-Puckett 2-5 0-0 2, Regan Zaremba 4-7 0-3 8, Mariah Smith 9-20 3-3 22, Reilly Malone 7-8 2-2 16, Kayleigh Boos 0-3 4-4 4, Emma Stilgenbauer 2-9 0-2 4, Elizabeth Padgett 1-2 0-1 2. Totals 25-54 9-15 60.
Veritas 13 13 12 11 — 49
Seabury 10 15 17 18 — 60
Three-point goals: Veritas 3-8 (Krestan 2, Gloss); Seabury 1-8 (Smith). Fouled out: Stilgenbauer. Turnovers: Veritas 30, Seabury 23.
BOYS
VERITAS CHRISTIAN (46)
Chad Stieben 4-12 3-8 11, Miles Dressler 2-7 2-2 6, Micah Edmondson 3-7 0-0 8, Michael Rask 0-2 0-0 0, Winston Wiebe 1-2 0-0 2, Mark Weinhold 3-4 0-0 6, Drake Napier 3-10 4-4 13. Totals 16-44 9-14 46.
BISHOP SEABURY ACADEMY (59)
Avery Rouser 1-8 0-0 2, Marcus Allen 1-4 0-0 2, Bryce Copeland 2-5 1-4 7, Jomain Rouser 4-7 2-3 10, Thomas Uhler 6-7 2-2 14, Mikey Wycoff 9-16 3-3 21, Joe Simpson 1-4 0-0 3. Totals 24-51 8-12 59.
Veritas 12 9 8 17 — 46
Seabury 20 14 15 10 — 59
Three-point goals: Veritas 5-12 (Napier 3, Edmondson 2); Seabury 3-14 (Copeland 2, Simpson). Fouled out: Edmondson. Turnovers: Veritas 11, Seabury 9.
-->
-->
It didn't look good for Bishop Seabury Academy's girls basketball team. After grabbing a lead early in the second half, senior Emma Stilgenbauer fouled out, with the Seahawks clinging to a two-point lead late in the third quarter.
Although the Seahawks lost a large piece of their offense, they responded by scoring on their next four possessions and using a big run midway through the fourth quarter to beat Veritas Christian, 60-49, on Saturday night at Seabury.
Later Saturday, Seabury's boys made it a sweep with a 59-46 victory over the Eagles.
The girls game left Seabury coach Kevin Smith beaming.
"I could not be more proud of any group of kids I've ever coached in my life," Smith said. "We finally had a game where we were hitting on all cylinders. Every player played to their capabilities."
After losing Stilgenbauer, who has sat for most of the season due to a knee injury, junior Reilly Malone took the offensive reins. Malone drilled a jumper at the third-quarter buzzer to give Seabury a 42-38 lead before scoring eight points in the fourth quarter.
Veritas (10-9) cut Seabury's lead to one point midway through the fourth quarter after Hannah Gloss made a layup, but the Seahawks (6-6) went on a 10-2 run over the final five minutes.
"The girls stepped it up," Kevin Smith said. "They all said, 'Let's win this for Emma.'"
Malone started the stretch with a layup, before sophomore Regan Zaremba darted past her defender for a layup on the next possession. Following an Eagles timeout, Malone swished a short jumper in the paint to give the Seahawks a 54-47 advantage, and Veritas wouldn't get any closer.
"We had to pull off a little bit because we were in foul trouble, and I really feel like our pressure was what was keeping us ahead in the game," Eagles coach Kevin Shelton said. "When we pulled that back a little bit, that's when they made their run."
Senior Mariah Smith carried the Seahawks until the fourth quarter. She scored 11 points in the first half and gave Seabury its lead when she made a layup while drawing the foul with 35 seconds left in the third quarter.
"I've not had a very good season, especially for my senior year what I was expecting," said Mariah Smith, who scored a game-high 22 points. "Tonight I was really happy with the way I played, and especially tonight was a big night so I was really happy that we won."
Freshmen Tori Huslig and Alyssa Krestan carried the Eagles' offense in the first half, combining for 16 points. Although Huslig fell into foul trouble in the second half, Krestan finished with 18 points, eight rebounds and five steals.
"Alyssa has played well all year," Shelton said. "Yes, Tori has scored a lot for us, but we want to be a team that's more than just Tori. They're both freshmen, and so that was encouraging that she stepped up as well today."
The Seahawks didn't turn the ball over in the fourth quarter, avoiding some of the mistakes that cost them late leads this season.
"It was a huge night, senior night, and they did perfect," Kevin Smith said.
Seabury boys 59, Veritas 46
Bishop Seabury Academy's boys basketball team celebrated its senior night Saturday, but its underclassmen stole the show.
Sophomores Thomas Uhler and Jomain Rouser and freshman Mikey Wycoff combined for 45 points in a victory over Veritas.
"I was just doing it for (the seniors)," Uhler said. "Senior night is a big night for them."
The Seahawks (11-3) ended the first half on a 9-0 run. Uhler scored on a layup with 1:36 remaining before junior Bryce Copeland drained a three-pointer and Wycoff added a layup to take a 34-21 lead into halftime.
Seabury then opened the second half with a 11-2 run to put the game out of reach for the Eagles (12-9). Rouser, who finished with 10 points and 10 rebounds, started the stretch with a layup while drawing the foul before Wycoff dribbled past his defender for an easy basket at the rim two possessions later.
"Seabury played some good aggressive defense, and we kept giving away the ball," Veritas coach Blake Mudd said. "First half, turnovers killed us. In the second half, they killed us on the boards. We just couldn't really get anything established to make a run. You have to take your hats off to them, they are a good ball club."
Uhler, Seabury's tallest forward at 6-foot-2 and the team's workhorse in the paint, scored the first four points for the Seahawks in the fourth quarter.
"Thomas Uhler was an absolute beast today, and he's capable of doing that every time he plays," Seabury coach Ashley Battles said. "He plays with the motor, and nobody in the state plays harder than him. When he's finishing around the basket, he's one of the best players we got, that's for sure."
Uhler, who completed a double-double with 14 points and 11 rebounds, added: "Shots were falling a lot more. I haven't been shooting that well inside over the course of the season, but tonight they were falling, and I hope that's a good sign."
The Seahawks face-guarded Eagles leading scorer Chad Stieben, limiting his opportunities to catch the ball. Stieben ended with 11 points on 4-of-12 shooting.
"They took him out of a lot of things and he was frustrated," Mudd said. "He was missing shots he usually makes, but the kid played his tail off. … He works hard all the time, credit to them they knew that and took him out of it. We just need some other guys to help step up as well."
Copyright 2018 The Lawrence Journal-World. All rights reserved. This material may not be published, broadcast, rewritten or redistributed. We strive to uphold our values for every story published.