Some of us spread a little sand and salt as the snow and ice begin to pile up. Jim Neis spreads straw atop the the cold ground of a bull pasture.
"You want to stop the bulls from lying on the frozen ground," Jim explains. "They tend to freeze their testicles."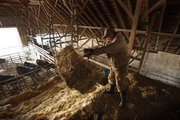 And you thought clearing your driveway was a pain.
"You take a $5,000 to $6,000 bull and they become useless," Jim continues. "It is no joke."
I'm certainly not laughing. Squirming in my seat and turning up the heater in the truck, but not laughing.
That's the way it is out here: A snow day doesn't produce a lot of fun and merriment. On the Neis farm south of Eudora it mainly produces extra work.
While most of us just have to worry about taking care of ourselves and getting from Point A to Point B in the snow, the fellows on the Neis family farm have about 300 cow-calf pairs to take care of. That means grabbing an ax to chop ice at the half dozen ponds the farm uses to water cattle. Recently, a single night of the cold weather is producing 3 to 4 inches of ice on the ponds.
It means hauling 1,200-pound bales of hay over snowy hills and through slick valleys. It means an hour of pushing snow before you even begin the chores. But mainly it means being part of a group — think police officers, firefighters, snow-plow operators — who don't get to use the snow as an excuse to sleep in or put off work to another day.
"It gives you a sense of responsibility. That's for sure," Jim says as he drives through a pasture of cattle depending on him to make sure there is water they can drink and hay they can eat. "It is like taking care of your kids. You have to get out of bed and do it."
•••
If you want it to rain, wash your car. If you want snow, ice and bitter temperatures, start having calves. At least that seems to be the way it works on the farm, says Dale Neis, who along with brothers Jim and Stan Neis serve as the main operators of the Neis farm.

"It seems like Mother Nature does this to us every year," Dale says.
Along comes February, and the snow begins to pile up, the thermometer begins to drop, and the calves begin to arrive.
In case you are confused about how this operation works, the Neis brothers have about 300 cows — those are females — and about 20 bulls. Let them mingle, and you'll have about 300 calves. The brothers time it so the bulk of the calves come between January and March because that is the time of year when they aren't busy tending to 4,000 acres of corn and soybeans.
During the peak of the calving season, which is expected to hit anytime now, the farm easily will deliver 15 calves a day.
And while farming has become a lot more automated over the years, calving is one part that hasn't. Jim said someone from the farm is up at midnight to check on cows that appear ready to deliver soon, then up again at 2 a.m. or 3 a.m., and then again at 5 a.m.. The biggest thing they are checking for are newborns that are struggling with the cold.
"You'll find them in the snow, so cold and wet they can't get up to feed," Jim says.
Sometimes they'll haul the calf back up to a heated shop where he is warmed up and hand fed for a bit. Other times, when the pace is a bit more fast and furious, there is another method.
"Sometimes," Jim says, "we'll pick him up and throw him on the floorboard of the truck to dry him off and get him warmed up."
And you thought road salt left your vehicle a mess.
•••
We all keep our eyes peeled in a certain way on those snowy morning commutes. We keep an eye out for the car that's slid into the ditch along the highway, or we look for the flashing lights of the sand and salt truck.
The sights are a little different on a snow day at the farm. Jim travels miles and miles around eastern Douglas County to about five different pastures where parts of the herd are kept. Other vehicles on the back roads are rare, and a farmer checking his cows usually makes tracks on a road before a snow plow does.
Jim sees quite a bit, though, on his morning commutes: Like the coyote tracks that cut across a frozen pond; a limp or a new mark on a cow; or a strand of barbed wire that still needs a little attention from where one bull hooked and tossed another bull over the fence.
"That one," Jim says pointing at a black bull, "is more of a fighter than a lover."
While brothers Dale and Stan do much of the work around the feedlot that's next to the main farmhouse, Jim's out more in the countryside.
"Doing this every day, I know my cows, I know the roads, I know where the snow drifts are," Jim says.
Indeed, he does know his cows. He should. He's known some of them for a decade. Many of the cows — the females who give birth — are kept for up to 10 years on the farm, because being an experienced mother counts for something even in the cow world. But think of that for a moment: He has known those cows longer than a lot of us have known our co-workers.
Sure, a cow is different from Bob in accounting. Everybody who has a steak on the grill understands how this works. These cattle are investments, and these brothers battle the snow because that is what you have to do to protect your investment.
Sometimes, that is not enough. A few days ago, Jim drove into one of the snow-covered pastures to find a large hole on the otherwise frozen pond. Three 10-day-old calves had ventured too far onto the ice. They froze to death in the water.
I would be a bit disingenuous if I said this business is soaked in sentimentality. Losing three calves doesn't produce the same type of emotion that losing three pets would. But it does bother them. Good stockmen care about the welfare of their animals for reasons beyond the monetary. When you battle Mother Nature every day, you understand something about suffering. You don't wish it upon any animal.
But it is fair to say the more frequent emotion in this business comes near the end of the process. A healthy herd is delivered to market, and a whole lot of people will be less hungry than they were.
"We are part of the food chain," Jim says. "To provide something for other people is pretty gratifying."
And cold. If you think these guys are natural lovers of winter, you are wrong. Jim says he would be "tickled" if it never got below 40 degrees. And Dale doesn't sugarcoat it at all.
"I think it is the worst time of the year," he says.
But soon it will be April. Remember those 4,000 acres of corn and soybeans the brothers grow? By April the tractors will be in the fields.
"It will be a race to the fields," Jim says. "We're all ready for warmer weather."
The bulls certainly agree.
Copyright 2018 The Lawrence Journal-World. All rights reserved. This material may not be published, broadcast, rewritten or redistributed. We strive to uphold our values for every story published.