Photo Gallery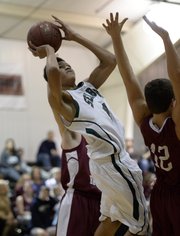 Seabury boys basketball vs. Hyman Brand
Box score
Hyman Brand (31)
Jacob Margolies 1-4 0-0 2, David Liebschutz 2-3 1-3 5, Joel Gutovitz 2-9 2-2 6, Max Sosland 5-10 0-0 10, Matt Kavanaugh 2-4 0-0 4, David Robinow 0-3 2-2 2, Jacob Pellegrino 1-4 0-1 2, Sam Matsil 0-1 0-0 0. Totals 13-38 5-8 31.
Bishop Seabury Academy (75)
Marcus Allen 4-6 0-0 10, Bryce Copeland 3-6 0-0 8, Jomain Rouser 3-6 0-0 6, Thomas Uhler 3-6 0-0 6, Mikey Wycoff 9-13 0-1 19, Joe Simpson 4-9 1-1 9, Austin Gaumer 0-2 0-0 0, Avery Rouser 1-6 2-2 4, Max Easter 3-3 0-0 7, John-Jacque Corbier 0-2 0-0 0, Amir Shami 2-2 0-0 6. Totals 32-61 3-4 75.
Hyman Brand 7 12 10 2 — 31
Seabury 15 15 17 28 — 75
Three-point goals: Hyman Brand 0-5; Seabury 8-20 (Allen 2, Copeland 2, Shami 2, Easter, Wycoff). Fouled out: None. Turnovers: Hyman Brand 22, Seabury 14.
Bishop Seabury Academy freshman Mikey Wycoff saw a variety of defenses on Thursday night against Hyman Brand Hebrew Academy. None of them worked. It didn't matter if it was a zone or man-to-man, Wycoff found a way around it. The 5-foot-11 combo guard drilled jumpers over the zone, drove past defenders and gave his teammates easy looks throughout the game as the Seahawks cruised to a 75-31 victory at Seabury.
"Mikey is a special player," Seahawks coach Ashley Battles said. "He should be mentioned up there with some of the best players in Lawrence."
Once the Rams started focusing on stopping Wycoff, the rest of the team took over. Seabury extended its 11-point halftime lead by shooting 65 percent in the second half (20-for-33) and forcing 15 turnovers with its full-court defense.
"We get hot sometimes where good things happen," Battles said. "The key with us, though, is tipped passes on defense, force them into bad shots, which I think we did all night, and rebounds and run, get out and go. We got a lot of athletes, and we want to get out and run the floor."
The Seahawks (10-3) opened the game with a 10-2 lead, with all points coming from Wycoff and sophomore Jomain Rouser. The Rams (11-8) cut the score to 10-7 midway through the first quarter, but Wycoff responded with a three-pointer, and senior Marcus Allen added a bucket before the buzzer.
Seabury went on a 10-4 run in the middle of the second quarter, highlighted by two three-pointers from Allen.
"Marcus Allen was pretty big-time for us," Battles said. "Just being in attack mode and doing exactly what we wanted defensively."
The Seahawks went scoreless for the final 2:45 of the first half, but opened the third quarter by scoring on their first four possessions. Wycoff had four of his game-high 19 points in the team's 8-0 run, while Rouser and sophomore Thomas Uhler both made layups. Junior Bryce Copeland later added five consecutive points with a three-pointer and a spin move past a defender for a layup.
"First half, we were actually a little off," Battles said. "Zone actually bothered us because they were long and stepping out on the ball. Other than that, I guess we were pretty efficient."
Freshmen Max Easter and Amir Shami combined for 13 points in the fourth quarter on 5-of-5 shooting, and the Seahawks outscored the Rams 28-2 in the final period.
"I was happy that at the end of the game, when we put in our JV players and guys who don't get as much playing time, they still played good and efficiently, and got lots of points," said Rouser, who had six points and five rebounds.
The Seahawks will face Veritas Christian at 7:30 p.m. on Saturday at Seabury.
---
Seabury girls 46, Hyman Brand 30
Photo Gallery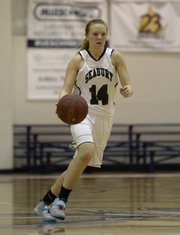 Seabury girls basketball vs. Hyman Brand
Box score
Hyman Brand (30)
Kara Kahn 1-8 2-4 4, Adena Goldberg 5-13 2-5 12, Alex Sher 1-7 0-0 2, Lainie Kaseff 0-4 0-1 0, Alexis Davis 2-10 2-6 6, Moriah Abrams 2-3 0-0 4, Gabi Cabell 1-3 0-2 2. Totals 12-48 6-18 30.
Bishop Seabury Academy (46)
Regan Zaremba 6-15 1-3 14, Mariah Smith 4-19 0-2 8, Reilly Malone 1-8 3-4 5, Emma Stilgenbauer 4-16 3-7 11, Celia Taylor-Puckett 1-4 0-0 2, Kayleigh Boos 3-6 0-0 6, Caroline Padgett 0-1 0-0 0. Totals 19-69 7-16 46.
Hyman Brand 2 6 4 18 — 30
Seabury 8 14 14 10 — 46
Three-point goals: Hyman Brand 0-1; Seabury 1-6 (Zaremba). Fouled out: Malone. Turnovers: Hyman Brand 29, Seabury 15.
Seabury Academy's girls basketball team didn't shoot well on Thursday night against Hyman Brand Hebrew Academy but its defense did more than enough to make up for it.
The Seahawks used their speed to jump in the passing lanes and force 29 turnovers as they cruised to a 46-30 victory at Seabury.
"It was nice for them to have a win," Seahawks coach Keith Smith said. "I know three games this year have been leads lost at the last minute."
Seabury (5-6) climbed to a 18-4 lead midway through the second quarter, with eight points from sophomore Regan Zaremba, who also had three steals and grabbed two rebounds in the stretch.
Senior Mariah Smith and junior Reilly Malone helped spark a 8-2 run after halftime as they combined for all eight points. Smith finished with eight points and nine steals.
"Right now Mariah is our better shooter, better passer and better ballhandler," Keith Smith said.
The Rams (6-13) cut the score to 38-26 with 3:36 remaining in the fourth quarter, but wouldn't get closer as Zaremba converted a layup a minute later.
Senior Emma Stilgenbauer, who returned for her first game after tearing multiple ligaments in her knee over the summer, completed a double-double with 11 points and 10 rebounds.
The Seahawks will play host to Veritas Christian at 6 p.m. on Saturday.
Copyright 2018 The Lawrence Journal-World. All rights reserved. This material may not be published, broadcast, rewritten or redistributed. We strive to uphold our values for every story published.