Innocent Anavberokhai, the winner of the Boys & Girls Club of Lawrence's Youth of the Year award, wasn't able to say much in his acceptance speech Wednesday night. Too many tears held him back.
He managed to thank God, and then said, "I can't say anything else, thank you," and the applauding audience did the rest.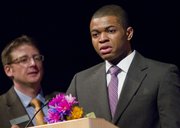 Anavberokhai, a senior at Free State High School, was one of five candidates who took the stage at the Lawrence Arts Center, in front of about 200 people, to deliver three-minute speeches, the capstone of an application process that included personal essays, transcripts and interviews with judges.
The award honors teenage members of the club for becoming caring and responsible citizens. It comes with a four-year scholarship — the amount undetermined as of Wednesday — and a chance to compete statewide against other local Youth of the Year winners.
Other candidates included Marcya' Floyd, a sophomore at FSHS; Jazmen Fowler, a junior at Lawrence High School; Precious Jacob, a December graduate of LHS; and Hannah Moyer, a junior at FSHS.
The night featured a few tears but plenty more laughs and applause as the five candidates delivered speeches on how the Boys & Girls Club affected their lives.
Anavberokhai, a junior staff member for the club, described in his three-minute speech what he thought of himself prior to joining the club as a fourth-grader.
"I think of being alone and keeping all my thoughts to myself," he said. "I came to the club with a terrible attitude. I was bitter, I was selfish."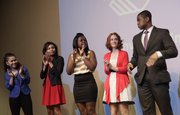 But his mentor in the club "navigated me away from bad influences, guided me to being more respectful and leading me to understand the importance of being grateful."
Copyright 2018 The Lawrence Journal-World. All rights reserved. This material may not be published, broadcast, rewritten or redistributed. We strive to uphold our values for every story published.