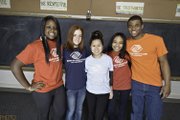 Five young people who have overcome obstacles to thrive at The Boys & Girls Club of Lawrence are candidates for the annual Youth of the Year award to be given Feb. 12.
Candidates for the award are nominated by program managers at the club based on how they have overcome obstacles to become productive, caring and responsible citizens, said Nicole Van Velzen, director of marketing and communications. At an event at the Lawrence Arts Center, each will give a three-minute speech about how the club has affected their lives, after which a judging panel will choose a winner.
"Our five candidates are our success stories," Van Velzen said. "They've all overcome some big obstacles in their lives."
The judges, recruited from the community, will chose based on the candidate' personal essays, transcripts, speeches, and interviews with the judges.
This year's candidates are:
Innocent Anavberokhai
A senior at Free State High School, Anavberokhai has been a club member and group leader at the Pinckney site, Van Velzen said.
Anavberokhai plans to play basketball at a junior college before transferring to a four-year university where he wants to major in business with a minor in ethics or communications.
He credits the Club with inspiring his love for basketball and plans to be involved with the club throughout his life.
"I want to be a role model and have young kids look up to me and be inspired to chase their dream," Anavberokhai said.
Marcya' Floyd
A sophomore at Free State High School, Floyd has been involved in the Boys & Girls Club for five years, Van Velzen said.
Floyd is close with her family and strives to be a role model for her three younger sisters.
Floyd is Vice President of Keystone Club, Secretary of the Zeta Phi Beta Archonettes and is a member of Yoga Club, Can We Talk? and the Kansas City marching Cobras. After high school, Floyd plans to attend college out of state and pursue a career in acting or modeling.
"I want to be known for setting examples and doing the right things," Floyd said. "To me, anyone who does that is a hero in the community."
Jazmen Fowler
A junior at Lawrence High School, Fowler was a member of Boys & Girls Club for five years and now works as a group leader, Van Velzen said.
Fowler plans to attend college and she hopes to become a therapist, cosmetologist or real estate agent. "From the age of eight, I have known that I want to help people," Fowler said. "I know what it is like to not have anybody to talk to about problems in life, and I feel that I offer good advice too."
Precious Jacob
A recent graduate of Lawrence High School, Jacob has been involved with the club for two years and is now a group leader at Kennedy school as well as a dietary aide at Brandon Woods, Van Velzen said.
Jacob plans to go to school to become an LPN, before transferring to Kansas University to study to become a registered nurse.
With her medical knowledge, Jacob plans to travel to the Philippines to provide free check-ups and treatments.
"Along with hard work, you become a leader," Jacob said. "People will look up to you because they see you as a role model —someone who works hard and never gives up in any situation."
Hannah Moyer
A junior at Free State High School, Moyer is a former club member and a current Keystone Club member, Van Velzen said.
Moyer has also been involved in Girl Scouts, moving through all seven levels, and plays soccer at Free State.
After graduation Moyer plans to attend Johnson County Community College and pursue a degree in interior design.
Moyer said that the Boys & Girls Club has taught her to be respectful and responsible.
"Getting involved in extracurricular activities has helped me become a better student," Moyer said. "My activities give me a place to be myself and express myself creatively."
Copyright 2018 The Lawrence Journal-World. All rights reserved. This material may not be published, broadcast, rewritten or redistributed. We strive to uphold our values for every story published.