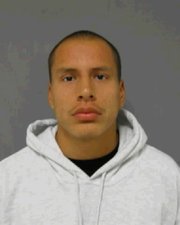 A man who died Sunday in northern Lawrence was the victim of a gunshot wound, according to police.
The Lawrence Police Department has identified Franklin J. Spottedtail, a 23-year-old Lawrence resident, as the man who died of "a traumatic injury" early Sunday morning.
A Monday news release by the department called Spottedtail the victim of a shooting, not a stabbing, which police call logs had previously indicated.
"This was clearly a gunshot wound," said Sgt. Trent McKinley, police spokesman.
At 3:08 a.m. Sunday, officers responded to a 911 call about a possible stabbing at a unit in Northwinds Apartments in the 1100 block of George Court. There, officers and medical personnel found Spottedtail, who had been shot and was dead, McKinley said. Investigators conducted interviews and processed the crime scene Sunday, and an autopsy was performed Sunday night.
On Monday evening, detectives continued to investigate the circumstances of Spottedtail's death. McKinley said he could not confirm whether it was a homicide, and no arrests had been made.
"There is no one in custody," McKinley said. "There is no conclusion to this yet."
In 2011, Spottedtail pleaded guilty in Douglas County court for his part in a Feb. 26, 2011, attempted armed robbery of a man on Tennessee Street. Spottedtail was sentenced to 34 months in prison by District Judge Sally Pokorny. He was released from the Hutchinson Correctional Facility last October and placed on probation.
If Spottedtail's death is determined to be a homicide, it would be the city's fifth since last July, after almost five years with no homicides reported.
Anyone with information about this incident is asked to call Lawrence police at 785-832-7509 or Douglas County CrimeStoppers at 785-843-TIPS (8477). Calls to CrimeStoppers can be made anonymously.
Copyright 2018 The Lawrence Journal-World. All rights reserved. This material may not be published, broadcast, rewritten or redistributed. We strive to uphold our values for every story published.