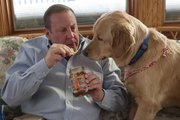 Maybe a little habanero will help melt the snow.
There's a new Lawrence-based salsa company that is willing to help you find out. Local physician David Lawhorn has started Dave & Dexter's. The company began selling its salsa varieties at The Merc this fall, and recently has expanded its reach into the two Hy-Vee stores in the city.
Lawhorn was convinced by his wife, cardiologist Stephanie Lawhorn, to try his hand at the salsa business after friends and family had raved about his homemade salsa for years.
"I wasn't sure because there are so many out there," Lawhorn said. "But this one does taste different. It tastes fresh right out of the jar, and we really do use fresh ingredients."
He says his salsa also contains less water than most, and adds: "True Mexican salsa shouldn't tinge your mouth or lips. You should taste a little bit of heat at the beginning and then it should build at the end."
As for how Dexter is involved in Dave & Dexter's, he's not much of a force in the kitchen, but he is a close confidant of Lawhorn's. He's Lawhorn's beloved golden retriever.
Lawhorn said sales of the salsa, which is produced by a commercial kitchen in Kansas City, have gone well. Lawhorn said there are plans to expand into the Kansas City and Topeka markets, and he even has been approached by Whole Foods about the product. Conversations with Dean & DeLuca also have begun, Lawhorn said.
Copyright 2018 The Lawrence Journal-World. All rights reserved. This material may not be published, broadcast, rewritten or redistributed. We strive to uphold our values for every story published.