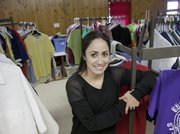 About this story
Micki Chestnut is communications director for the United Way of Douglas County, which provides occasional features spotlighting local volunteers and charities supported by the United Way.
"If you could wave a magic wand, what would your life be like now? If you have dreams on the back burner, what are they?" Leila Novelo asks each guest who sinks wearily into the chair by her desk at Penn House.
Usually, they are people who have had to put a lot of their dreams on the back burner, because every day is a fight for survival. They are battling things like unemployment or underemployment, struggling with how to feed and clothe their families, figuring out how to battle health problems in a constantly changing but always confusing health care system. Dreams may seem like things other people have time for, not them.
But Novelo, who is volunteering at Penn House while earning her master's degree in social work at Wichita State University, knows there is a magic power in asking people to dream.
"If they find their dreams, they have this confidence which drives them to reach the goals they want to accomplish," she explained. "We want them to determine what goals they want to achieve."
Novelo is a part of the aptly named Dream Team at Penn House, a strengths-based case management program launched a year ago by Kyle Roggenkamp, director of human services for Ballard Community Services, which operates Penn House.
The Dream Team was born of the Ballard Center staff's realization that to help the people they served become self sufficient, Penn House needed to do more than provide emergency food and clothing.
"Last year we decided that if we didn't layer those services with case management, we were just going to burn through resources and not have as big an impact as we could on people's lives," Roggenkamp explained.

Novelo and the other Dream Team volunteers are not licensed clinical social workers or therapists. Instead, Roggenkamp said, they simply provide a support system for low-income individuals who use human services on a regular basis. Those who want to use this free, voluntary case management program work with the strengths coaches to identify their life goals and make a plan for achieving them.

In 2013, the Dream Team's first year of operation, it served 36 households, a total of 94 individuals. "Four households graduated from the program, meaning they are no longer depending on our services or perceive that they are dependent on social service," Roggenkamp shared.
Novelo, who grew up in Belize then moved to the Lawrence area when she was 10, volunteers at Penn House two days a week as part of her social work program. As she's worked with clients, she's seen commonly held stereotypes about low-income people shattered.

"There is a stigma of the low-income population always wanting," she explained. "But you never hear the stories of the people who just take what they need. More than half of the people who come here don't want to come here. This is their last resort. They have nowhere else to go. They just need a little push to keep them going."
Novelo and the other strengths coaches have learned that the "push" needs to come from inside the people seeking the support of the Dream Team. They know that when their clients come up with the solutions to their own problems, they are much more successful at changing their circumstances and their lives.
"A lot of times, I want to give them the answers but I know that is not going to help them; it's going to make them more dependent on social services, and that is not what we are here to do," Novelo said.
Novelo has found her work with the Dream Team to be so fulfilling that she encourages others to also become strengths coaches at Penn House. "You don't have to be a social work student to volunteer. It could be anyone. If you want to help and you like talking with people, it could be you," she said.
For more information on volunteering for the Dream Team or for Penn House, contact Roggenkamp at kyle@ballardcener.org.
Copyright 2017 The Lawrence Journal-World. All rights reserved. This material may not be published, broadcast, rewritten or redistributed. We strive to uphold our values for every story published.