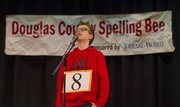 The word to clinch the 2014 Douglas County Spelling Bee on Saturday at Southwest Middle School properly summed up what the contestants may have thought of some of the words thrown their way: insidious.
Can you use it in a sentence?
Southwest Middle School eighth-grader Ethan Perrins correctly spelled "insidious" to win this year's bee inside his home school. He and second-place speller Morgan Orozco, a Langston Hughes fifth-grader, will now travel to Topeka for the March 2 regional bee with a shot at qualifying for the annual Scripps National Spelling Bee in Washington, D.C.
Ethan emerged from a field of 24 students from third through eighth grades who advanced to Saturday's competition after winning their schools' respective bees. This year's event breezed by as the first elimination round whittled the field down to eight and the next produced a final four: Ethan, Morgan, Chloe Safree, a Quail Run fifth-grader, and Erin Fagan, a West Middle School sixth-grader.
After the competition, both Ethan and Morgan called themselves lucky. Because after months of committing hours to websites like spellingcity.com or practicing at the table over breakfast, even the champions needed a little luck.
"I'm really surprised how lucky I got with the easiness of words like 'provolone,'" Ethan said, tipping his cap to Erin, who was tasked with "amicable."
Once Ethan tackled "provolone" and "opossum," and Morgan handled "inane" and "finesse" to clinch the top two spots, Ethan leaned across his seat to offer a fist-bump.
"I was nervous," Morgan said. "I thought I would get out. Now I'm nervous to be in the next one. There will be vocabulary too. I'm scared about that but I'm excited too."
The county bee was sponsored by the Lawrence Journal-World. The winner of next month's regional bee will advance to the Scripps National Spelling Bee, a path taken in 2012 by Emma Steimle, then an eighth-grader at West Middle School.
After Saturday's bee, Ethan stood near the end of the stage inside the auditorium as his father, Erik Perrins, snapped a few photos. This would be Ethan's final Douglas County Spelling Bee after having competed in it six times. As if he needed the reminder, his father told him as much but with one caveat.
"Just have fun," he said. "We're always glad when you get the first word correct. After that: just have fun."
He would do more than that: His victory culminated with him correctly spelling "insidious." Though defined as causing harm in a way that is gradual or not easily noticed, Ethan handled the winning word with relative ease.
Copyright 2018 The Lawrence Journal-World. All rights reserved. This material may not be published, broadcast, rewritten or redistributed. We strive to uphold our values for every story published.