Photo Gallery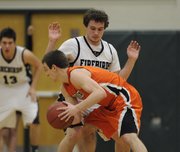 Free State boys basketball vs. Shawnee Mission Northwest
Box Score
Free State (43)
Tristan Garber 0-1 0-0 0, Blake Winslow 5-8 2-3 12, Cole Moreano 3-5 0-0 6, Keith Loneker 1-4 0-0 2, Weston Hack 2-5 0-0 4, Reshawn Caro 0-2 0-0 0, Justin Narcomey 1-4 2-2 5, Khadre Lane 4-17 6-8 14. Totals 16-46 10-13 43.
Shawnee Mission Northwest (50)
Jake Horner 2-5 0-0 5, Keaton Cross 5-7 3-5 14, Brady Skeens 7-12 4-8 19, Warren Specht 3-7 0-0 6, Andrew Medis 1-2 0-2 2, Brennan Strohm 1-3 0-1 2, Spencer Cook 0-1 0-2 0, Dehven Talley 1-3 0-1 2. Totals 20-40 7-18 50.
SMNW 13 12 12 13 — 50
Free State 15 17 7 4 — 43
Three-point goals: SMNW 3-8 (Horner, Cross, Skeens); Free State 1-13 (Narcomey). Fouled out: Loneker. Turnovers: SMNW 13, Free State 14.
There were no easy shots for Free State High's boys basketball team on Friday night.
The Firebirds struggled to score after halftime and couldn't hold off Shawnee Mission Northwest in a 50-43 loss at FSHS.
Free State shot 59 percent in the first half before going 3-for-24 (12.5 percent) from the field afterward.
"I thought we got fine looks," Firebirds coach Chuck Law said. "We had some tough in-and-outs. We didn't get a lot of rolls, but that's the nature of the game. But the shots we missed around the bucket are absolutely inexcusable. That's just a lack of focus and a lack of toughness to get to the rim and finish."
Free State (9-5) led, 39-37, after the third quarter, but the Cougars (11-3, ranked No. 7 in Class 6A) began the fourth by scoring on their first three possessions to take a four-point lead. The Firebirds didn't score until Cole Moreano made a layup with 2:53 remaining.
SMNW's Brady Skeens hit a jumper to give the Cougars a 45-41 lead before senior Khadre Lane made a pair of free throws, which were the last points scored by the Firebirds with 2:22 left in the game.

"We missed a bunch of bunnies and we weren't playing with a lot of energy through the whole game," said Lane, who completed a double-double with 14 points and 11 rebounds. "The ball was just dropping for us in the first half. Like we've always said, if you're not going to play with energy, you're not going to win and that's exactly what happened."
The Cougars opened the second half on a 9-2 run to tie the game, but Lane and junior Justin Narcomey made three free throws. SMNW's Jake Horner tied the game once again with a three-pointer with 36 seconds left in the third quarter, but senior Blake Winslow swished a jumper at the buzzer.
The Firebirds missed their first eight shots to open the fourth quarter.
"They're long but that's no excuse, we've got good athletes missing shots," Law said. "I don't know how many shots we took inside of eight feet and how many we missed. We scored 11 pathetic points in the second half. You're not going to beat one of the top-five teams in the state arguably, scoring 11 points in the second half."
The Firebirds will travel to Shawnee Mission North on Tuesday.
Copyright 2018 The Lawrence Journal-World. All rights reserved. This material may not be published, broadcast, rewritten or redistributed. We strive to uphold our values for every story published.