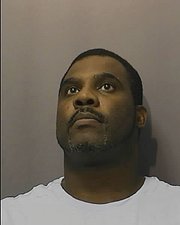 A 48-year-old Topeka man was sentenced Friday to 15 months in prison on charges stemming from the theft and unlawful use of a credit card in Lawrence in August 2013.
District Judge Peggy Kittel sentenced Joe Larry Hunter, who pleaded guilty last month to stealing a woman's credit card at the Wagnon-Parrott Athletic Center on the Kansas University campus.
Because of his criminal history — which includes multiple convictions in Douglas, Shawnee, Johnson and Sedgwick counties — the felony theft charges came with a mandatory prison sentence.
On Friday, Hunter told the judge he admitted everything he participated in and wanted to put his life back together. When asked how much time he had served in prison in his life, Hunter replied "too much," before saying he has spent more than 20 years in jail, or almost half his life.
Copyright 2018 The Lawrence Journal-World. All rights reserved. This material may not be published, broadcast, rewritten or redistributed. We strive to uphold our values for every story published.