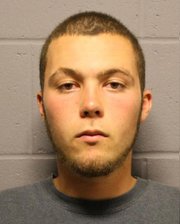 A Douglas County district judge opted for probation in sentencing a 19-year-old Lawrence man who had been in jail since July following an arrest for his role in an armed robbery last spring.
Caleb Christopher Mar Sheridan was sentenced to three years of probation by District Judge Paula Martin on Friday and will begin his sentence after entering a 30-day inpatient treatment program in Kansas City, Kan.
"I'm just really ready to move on to the next chapter of my life, go to school and stop all this dumb behavior I've been partaking in," Sheridan told Martin.
Sheridan's defense attorney, Craig Stancliffe, said on Friday that Sheridan had been diagnosed with attention deficit disorder and bipolar disorder and that if given probation, Sheridan would enter inpatient treatment before moving in with his aunt in Lawrence and working at a T-shirt company.
In October, Sheridan pleaded guilty to amended charges of attempted aggravated robbery and conspiracy to commit aggravated robbery. He also pleaded guilty to possession of hallucinogenic drugs, but Stancliffe argued that a prison sentence, given Sheridan's mental health history, would not have served society, calling prison a "criminal college."
Prosecutor James McCabria argued that Sheridan admitted to his role in supplying a former friend with a gun after his friend, who Sheridan said sold marijuana, had been robbed. McCabria said Sheridan and his friend went out looking for places to burglarize and people to rob when they robbed a pedestrian on Rhode Island Street on March 7, 2013. Furthermore, McCabria said, mental health services would have also been available through the department of corrections.
But in opting for a probation sentence, Martin said she had seen a big change in Sheridan in the months he has been in custody and that on Friday she noticed an outpouring of family support she had not seen before in the case. The terms of the probation would be zero tolerance, Martin said, meaning a violation would land Sheridan in prison for 55 months.
"I hope you don't blow this," she said.
"You won't be disappointed, your honor," Sheridan replied.
Copyright 2017 The Lawrence Journal-World. All rights reserved. This material may not be published, broadcast, rewritten or redistributed. We strive to uphold our values for every story published.