Winter Weather
Winter weather information
With the brunt of the worst winter storm of the year behind us, Lawrence appears to have emerged relatively unscathed, with the main task now being to clear the roads.
As schools and other institutions were shuttered Tuesday, keeping many residents at home, law enforcement and traffic officials in Lawrence and Douglas County said their roads remained free of injury accidents, save for one, with plenty of motorists stuck in the snow.
Kris Sanders, a meteorologist for the National Weather Service in Topeka, said 9.5 inches fell on Lawrence by 7:30 p.m. Sanders expected it to climb to about a foot by midnight, when snowfall is largely expected to cease.
The NWS's storm warning expires at 6 a.m. Wednesday, but the sheer amount of snow left over, plus bitter cold temperatures, prompted Kansas University and public schools in Lawrence and the surrounding areas to close for the second day in a row.
The NWS also issued a wind chill advisory, slated to last until noon Wednesday. Wind chill values are expected to reach as low as minus 14 degrees during the day and minus 20 at night.
Gov. Sam Brownback declared a state of disaster emergency for the entire state, which allows state resources to help communities and residents as needed after the storm.
With road crews prepared to work overnight, road officials on Tuesday night still cautioned against anyone driving Wednesday morning.
Dennis Shoemaker, a master trooper for the Kansas Highway Patrol, said highways in Douglas County remained snowpacked and "extremely hazardous" Tuesday evening. He suggested the roads may not be much improved until noon Wednesday.
Mark Thiel, assistant public works director for the city of Lawrence, said the city hired two contractors to help plow residential streets while city staff concentrated on major roads. Because of the volume of snow, he said nonresidential Lawrence roads should be passable by midafternoon Wednesday.
Because of incoming extreme temperatures, Thiel said, road crews won't be aided by melting snow and he doesn't expect all roads to be cleared until Thursday.
"People will need to take their time [driving]," he said.
Meanwhile, law enforcement and road officials praised residents for avoiding driving. Sgt. Hayden Fowler, a Lawrence Police Department spokesman, said his department responded to eight accidents Tuesday. One was an injury accident, however medical attention was declined, Fowler said.
Officials from the Douglas County Sheriff's Office and Kansas Highway Patrol also said they did not respond to an injury accident in the rest of the county.
As of 6 p.m. Tuesday, the Kansas Highway Patrol reported 94 property damage accidents, 11 injury accidents and 371 motorist assists statewide. It attributed one fatal accident, which killed two people in Crawford County, to the weather.
Jim Hanni, with AAA Kansas, said as of 8:15 p.m. the organization had received 282 calls for service statewide, 29 of which came out of the Lawrence area. He said most calls involved vehicles sliding off the road and becoming trapped in the snow.
Lt. Randall Cheek, a Douglas County Sheriff's Office spokesman, said his agency saw more of the same.
"The problems we've had have been pretty minimal," Cheek said.
Businesses
By 3 p.m., most downtown businesses had posted in their windows signs reading "closed due to inclement weather."
Photo Gallery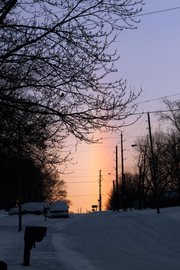 Snow day: Lawrence's first 2014 snowstorm
Here's how Lawrencians are spending the day as snow falls in Lawrence. Keep checking back for more photos. Tag us (@ljworld) on social media or use the hashtag #ksstorms on your winter Vines, Instagrams and other videos and pictures, and we'll add them here. If you prefer email, send your stuff to digital editor Alma Bahman at abahman@ljworld.com with the subject line: Snow Day
As the snow blanketed the sidewalks, only a few pedestrians braved the storm for a stroll down Massachusetts Street.
Lawrence resident Carl Zuckert made a day of the winter blast. Instead of snuggling inside by the fireplace, he had lunch at Rudy's Pizzeria and climbed to the top of the downtown parking garage for a better view of the blustery winter scene.
"It's a beautiful day and I just love it," Zuckert said. "It's 20 degrees out, which is like a heat wave for February."
But employees working at one of the last downtown businesses still open during the snow storm didn't have such a cheery outlook. Seth Bonzo, general manager of Hot Box Cookies, 732 Massachusetts St., said, "If it were up to me, we'd shut this place down, but I don't make that decision; people in Columbia (Mo.) make that decision."
Though the streets were relatively clear of walk-in customers, Bonzo said the cookie company had a decent day of business with about seven delivery orders in the afternoon alone.
"We're actually a little bit busier than normal," Bonzo said. "We've had about twice as many deliveries as we usually have."
Hot Box delivery driver Daryl Armstrong had trouble completing his job duties, barreling his car through inches of snow to get warm, fresh treats to beckoning customers.
"I stalled out on the 11th Street hill and had to push a girl's car who got stuck," Armstrong said. "No one wants to get out in this."
Luckily, Armstrong said he had come to work prepared for the hazards of the day.
"I brought two snow shovels and pieces of wood to dig us out just in case," Armstrong said. "It's a tough day out there."
Copyright 2018 The Lawrence Journal-World. All rights reserved. This material may not be published, broadcast, rewritten or redistributed. We strive to uphold our values for every story published.