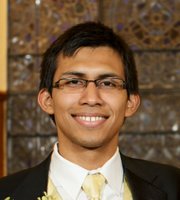 Related document

More coverage: Gianfranco Villagomez-Saldana
Gianfranco Villagomez-Saldana, the 23-year-old Kansas University student found dead in December, died of accidental blunt trauma to the head and not exposure to the cold, according to an autopsy report released on Tuesday. The report indicates he had a blood-alcohol level more than twice the legal limit to drive.
An autopsy report made public by Frontier Forensics concluded that Villagomez-Saldana suffered skull fractures and cerebral contusions that suggested he fell on a hard surface. Villagomez-Saldana also suffered fractured ribs that were consistent with impact to the right side of his chest. Erik Mitchell, the coroner who performed the autopsy, described the manner of death as an accident.
Sgt. Trent McKinley, a Lawrence Police Department spokesman, said on Tuesday that police never suspected foul play throughout the investigation. And although police don't typically truly close death investigations, McKinley said, police don't have anything further to follow up on at this time.
The report reads: "The pattern of injury is compatible with impact of the head upon an object and the scene information indicates the decedent has the opportunity to fall upon a hard surface."
Villagomez-Saldana, who came to KU from Lima, Peru, was found near a home in the 800 block of Avalon Road on Dec. 9, two days after he was last seen leaving a party about a block away in the 800 block of Michigan Street.
The report said coroners found evidence of "significant intoxication with impaired mental and physical performance" at the time of death. Villagomez-Saldana's blood-alcohol level was more than .18 (more than twice the legal limit for driving) and he did not have any drugs in his system, according to the report.
According to the report, Villagomez-Saldana died about 2 a.m. on Dec. 7 and was officially pronounced dead at 2:45 p.m. on Dec. 9 by Lawrence-Douglas County Fire Medical personnel.

Early Dec. 7, when Villagomez-Saldana was last seen, the temperature had dipped to 3 degrees with a wind chill of 10 degrees below zero, according to the National Weather Service office in Topeka. Temperatures remained frigid until his body was discovered, with highs only reaching the mid-20s.

According to background information included in the autopsy report, Villagomez-Saldana was described to investigators as having been drinking at the party but did not appear overly intoxicated. "He was known as a social drinker that did not usually lead to excessiveness and never used illicit drugs," the report said.
Villagomez-Saldana left the party on foot about 2 a.m. to go to his girlfriend's home in the 1000 block of Mississippi Street. According the report, she woke up at 7 a.m. and found that Villagomez-Saldana had not arrived. After not being able to reach him by phone, she filed a missing-person report with police at 7 p.m. on Dec. 7.
"(Villagomez-Saldana) always checked in with friends and would never just 'disappear' without someone knowing," according to the report.
The man who later discovered Villagomez-Saldana's body told police that "upon reflection, his dog barked wildly" about 4:30 on the morning Villagomez-Saldana was last seen "but he didn't think much of it at the time," according to the report.
May Tveit, a KU associate professor of industrial design who taught Villagomez-Saldana in a number of classes, said the autopsy report did not give her as much closure as just considering Villagomez-Saldana's life.
"The closure for me comes in knowing that Gianfranco had a tremendous positive spirit and profound impact on the KU and Lawrence Community — as expressed at his two memorial services in December," Tveit said in an email. "In his passing, he challenges us to live life in a manner in which he did every day — with peace, creative drive, a spring in his step, kindness, humility, a giant smile and open heart full of love."
— Sara Shepherd contributed to this story.
Copyright 2018 The Lawrence Journal-World. All rights reserved. This material may not be published, broadcast, rewritten or redistributed. We strive to uphold our values for every story published.