Winter Weather
Winter weather information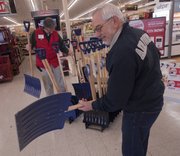 AAA Kansas provided these tips for those who have to drive in the snow:
Clean all snow and ice from your entire vehicle.
Wear your seatbelt.
Avoid distractions­ – don't talk on your cell phone.
Give yourself at least three times the usual space between your car and the one in front of you.
Brake gently to avoid skidding, and use low gears to avoid losing traction. Gentle pressure on the accelerator pedal when starting is best method for retaining traction and avoiding skids. If your wheels start to spin, let up on the accelerator until traction returns.
Avoid passing plows unless necessary.
When driving on the highway, stay out of the pack.
Use major routes that have been cleared or salted whenever possible.
Do not use cruise control.
Keep your headlights on.
If you are involved in an accident, stay in your vehicle or get well away from where traffic is approaching.
The National Weather Service issued a winter storm warning for Douglas and surrounding counties, beginning at midnight lasting until 6 a.m. Wednesday.
Light snow will fall in northern central Kansas tonight but the heaviest snowfall is expected Tuesday between 4 a.m. and 6 p.m. The NWS predicts about 6 to 10 inches of snow.
Winds will gradually increase from 10 mph tonight, reaching 35 mph Tuesday night through Wednesday morning. Wind chill factors are expected to range from minus 13 to minus 18 degrees on Wednesday morning.
Lawrence road crews will work during the snow to keep one lane in each direction open on main roadways, said city spokeswoman Megan Gilliland. Crews worked on Friday and Saturday this weekend to plow roadways and pre-treat roadways, she said. While it's snowing the crews will focus on plowing major roads first to keep streets open for motorists and emergency vehicles, said Assistant Public Works Director Mark Thiel. "Once the snow has stopped falling, our crews shift efforts to clean-up and plowing snow in residential areas," he said.
The city will update its website, http://www.lawrenceks.org/snow, with information on snow crews' progress during the storm, Gilliland said. The site will show current conditions at numerous traffic signals around town and where snow plows are located.
Solid waste crews will start picking up trash earlier than usual on Tuesday morning and residents with Tuesday collection should set their trash cans out on Monday evening, Gilliland said. The goal is to get crews off the roads as quickly as possible so they are not out when street crews are trying to plow. If a trash pickup is missed during the early collection on Tuesday, call 785-832-3032.
The city will close the 4th floor of the 9th and New Hampshire parking garage and the Vermont Street parking garages at 5 p.m. on Monday.
Temperatures are expected to reach a high of 32 degrees today with a low of 21.
Copyright 2018 The Lawrence Journal-World. All rights reserved. This material may not be published, broadcast, rewritten or redistributed. We strive to uphold our values for every story published.