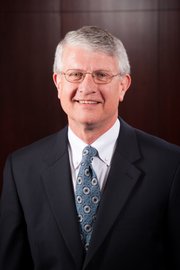 Kansas Board of Regents President Andy Tompkins recalls that when he graduated from college in 1969, he walked out owing $2,000 in student debt, which might sound like a pittance next to the $1 trillion in student debt held by the country today.
To put the amount in perspective, Tompkins said the next year he bought a new Dodge for about the same amount, $2,000. Estimating an equivalent car today would cost about $20,000, compared to about $23,700 in student debt for the average Kansas graduate, Thompkins said, "We're not too far off."
Student debt was among the topics on Tompkins' mind at a talk at the Lawrence Rotary Club on Monday. Front and center, though, was the regents' effort to increase the number of Kansans with degrees and other higher education credentials, a key pillar of the regents' strategic plan.
The regents have set a goal of getting 60 percent of Kansans a bachelor's degree, associates degree or technical certificate by 2020. Currently about 52 percent acquire a higher education credit.
Tompkins acknowledged that the priorities of the regents are not always the same as those of the legislature or state government.
Asked by a Rotary member who sets the priorities for the regents, Tompkins said, "Well, it's a political environment." The comment prompted laughter.
The regents, who oversee higher education, are an independent body appointed by the governor, but they depend on the legislature for funding. In 2013 the legislature cut about 3 percent from higher education.
"Right now we're spending some time trying to make sure the legislature is willing to pursue those goals with us," Tompkins said. "I don't think there's really been a lot of opportunity for having joint goals. Because what happens is, the board has a goal and they go across the street (to the capital) and there's no support for that goal, we have problems."
Copyright 2018 The Lawrence Journal-World. All rights reserved. This material may not be published, broadcast, rewritten or redistributed. We strive to uphold our values for every story published.