Photo Gallery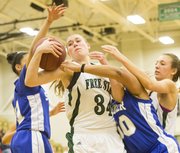 Free State girls basketball vs. Sumner Academy
Box score
FREE STATE (49)
Lauren Johnson 0-0 2-5 2, Adriana Jadlow 5-12 3-9 13, Hannah Walter 1-3 0-0 2, Scout Wiebe 3-11 1-4 8, Madison Piper 5-15 1-1 11, Millie Shade 3-7 1-2 9, Maren Kahler 1-2 0-0 3, Hannah Shoemaker 0-1 1-2 1, Morgan Gantz 0-1 0-0 0. Totals 18-52 9-23 49.
SUMNER ACADEMY (34)
Dezha McKoy-Overton 2-7 2-2 7, Nakia Hope 0-3 0-0 0, Samia Roark 5-8 6-7 16, Myleesha Jordan-Dickens 0-3 2-3 2, Sydnei Patton 2-12 2-2 6, Akayla Brown 1-4 1-2 3, Clarissa Bilbao 0-2 0-0 0. Totals 10-39 13-16 34.
Sumner 5 14 0 15 — 34
Free State 18 15 10 6 — 42
Three-point goals: Sumner 1-7 (McKoy-Overton); Free State 4-12 (Shade 2, Wiebe, Kahler). Fouled out: Piper. Turnovers: Sumner 19, Free State 11.
-->
-->
It wasn't always pretty, but it was good enough for Free State High's girls basketball team.
After an opening-round loss in the Firebird Winter Classic on Thursday, the Firebirds took control early and cruised to a 49-34 victory over Kansas City (Kan.) Sumner Academy on Friday afternoon at FSHS.
"The bottom line is that we needed to win today," Free State coach Bryan Duncan said. "It wasn't real pretty, and it was an afternoon game. It was a little bit ho-hum, but when you lose the first one, you need to make sure you win the second one. We did what we needed to do today."
Free State went on a 15-2 run over the last four minutes of the first quarter, after missing six of its first seven shots, to take a 18-5 lead into the second quarter.
Senior Scout Wiebe began the run with a three-pointer, before the Firebirds scored on their last five possessions. Senior Millie Shade highlighted the stretch with five consecutive points when she drained a three-pointer, forced a turnover and converted a layup in succession.
"It just feels just like a redemption from losing the last game and taking it out on this team," junior Adriana Jadlow said.
Jadlow scored six of her team-high 13 points in the second quarter. She also led the team with nine rebounds and four steals.
"I thought Adriana Jadlow was our best all-around player tonight," Duncan said. "She brought the most energy and just had the most energy from start to finish. I think that showed with her scoring and rebounding and just her overall performance."
Jadlow, a forward who uses quick moves in the post to draw fouls, said watching Sumner (6-5) lose its first-round game helped calm her nerves.
"Mainly I just try to come out and play my hardest every game," Jadlow said. "This game, I wasn't really nervous, and usually it's the nerves that get to me."
The Firebirds (5-7) extended their 14-point halftime lead by outscoring the Sabres 10-0 in the third quarter.
Freshman Madison Piper opened the third quarter with a jumper, before Wiebe and Jadlow added layups. Sophomore Lauren Johnson also made two free throws. Meanwhile, Sumner missed all 10 of its shots and had six turnovers.
"We were really trying to come out and lock it down in the second half, and I think we did pretty well," FSHS senior Maren Kahler said.
Duncan added: "At halftime, that's the one thing that we did talk about is that the one thing we've got to do is play defense, and we'll be fine. I think that did take place in the third quarter, then that allowed us to have a little bit more freedom in the fourth."
Free State will play Hutchinson in the fifth-place game at 10:30 a.m. today at FSHS.
Copyright 2018 The Lawrence Journal-World. All rights reserved. This material may not be published, broadcast, rewritten or redistributed. We strive to uphold our values for every story published.