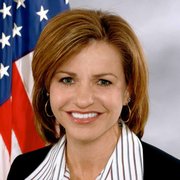 With more than 1,000 Russian troops now occupying portions of eastern Ukraine, U.S. Rep. Lynn Jenkins said she is growing frustrated at what she says is a lack of strategy from President Barack Obama.
But she does not think that Congress or the American people are ready to commit U.S. military forces to the region.
"I think everyone's frustrated that we don't have a strategy yet," Jenkins said Friday. "I think the nation is war-weary. There's very little if any support for troops on the ground. But we do need the president to step up, listen to his national security advisers and present a plan to Congress when we get back after Labor Day."
Jenkins, a Republican who represents the 2nd District of eastern Kansas, was in Lawrence Friday on a congressional visit. She spoke to the Journal-World after touring a Boys and Girls Club after-school program at Kennedy School.
On Thursday, Obama said during a news conference that he has ruled out the use of force, at least for the time being. He is expected to call for imposing additional sanctions on the Kremlin, but he declined to label Russia's action as an "invasion."
Asked what she thinks Congress is ready to do about the crisis, Jenkins put the responsibility on the president's shoulders.
"We're ready to hear some leadership out of the Oval Office, a plan from the military advisers," she said. "And as the nation has always done, it has been very supportive once we know the plan."
Jenkins is running for re-election to a fourth term in the House. She also serves as vice chair of the House Republican Conference.
Her Democratic challenger this year is Lawrence attorney Margie Wakefield.
In a separate interview, Wakefield said she believes the U.S. does have a vital strategic interest in the Ukraine, saying Russia's actions threaten to destabilize the region, which could pose a threat to NATO allies.
But she said she is also skeptical about the use of military force anytime soon.
"I think the U.S. goal is to always support the peace and stability and security of other nation-states, and those trying to be a democracy for sure," she said. "But in terms of military aggression right now, I think we always have to analyze that in terms of, is it in our self interest; is it something that meets our values; and finally, is it an area where we can make a difference?"
"Every time you're going to talk about putting our troops at risk, our military people in harm's way, we've got to always look at those questions," Wakefield said. "I don't think that we are there yet in terms of wanting to take military action."
Ukraine was part of the former Soviet Union until that nation broke up in 1991. It has been an independent country since then and once applied for membership in NATO, but those plans were dropped in 2010 when voters there elected a pro-Russian president, Victor Yanukovych.
In an election this year, Ukrainian voters elected President Petro Poroshenko, who has adopted a more pro-western stance, sparking increased tensions with Russia.
Prime Minister Arseny Yatsenyuk said this week that he would introduce a bill to resume efforts for Ukraine to join NATO.
Copyright 2018 The Lawrence Journal-World. All rights reserved. This material may not be published, broadcast, rewritten or redistributed. We strive to uphold our values for every story published.