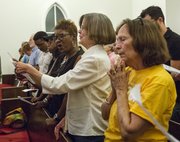 A congregation of various faiths and followers gathered Thursday at St. Luke African Methodist Episcopal Church to mourn and rally in the wake of Michael Brown's death at the hands of a Ferguson, Mo., police officer.
More than 130 people filled the church pews to sing and hear sermons from leaders of Douglas County Jewish, Mennonite, Christian, Islamic, Unitarian and academic organizations. They brought together themes of the negative effects of institutionalized racism and working together to understand, and to end, the prejudices that certain communities face.
The event was organized by Rabbi Moti Rieber, of the Lawrence Jewish Community Congregation. In April, he put together a similar communion in Lawrence following a shooting spree at the Jewish Community Center in Overland Park.
"We come here tonight to flip the script on race and all the 'isms' in America that deny equal protections," said Randal Jelks, a Kansas University professor of African and African-American Studies. "If you believe what was done in Ferguson and elsewhere around the country was unjust, you came together tonight to write a new American script."
Brown, 18, who is black, was shot and killed by white police officer Darren Wilson on Aug. 9. With conflicting accounts on what precipitated the shooting, the St. Louis suburb roiled with protests both peaceful and violent in the following days, inciting a federal investigation and a flood of international press.
Thursday night in Lawrence, the Rev. Joanna Harader, of Peace Mennonite Church, told of a time during her college days when a black friend informed her it wouldn't be wise for him to be seen with her in a small town in southwestern Virginia.
"Of course I didn't think of it because I'm white and didn't have to think of it," she said. "I should be aware that these things are happening in our world, and it's a sin to be closing my eyes to the racial injustice."
Many of the speakers advocated for continued collaboration between local congregations. After accepting an invitation to speak at the Plymouth Congregational Church and extending the same invite back to Rev. Peter Luckey, Pastor Verdell Taylor, of St. Luke, ended the evening by imploring the audience to be proactive in dissolving prejudices in Lawrence and other Douglas County communities.
"Situations like Ferguson will occur, and we need to be prepared because it could have been this community that we love and know as Lawrence, Kan.," Taylor said. "We must become proactive rather than reactive."
Copyright 2018 The Lawrence Journal-World. All rights reserved. This material may not be published, broadcast, rewritten or redistributed. We strive to uphold our values for every story published.