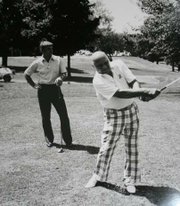 The Lawrence Memorial Hospital Endowment Association will be hosting the annual Penny Jones Open Golf Tournament on Friday, Sept. 5, at Alvamar Golf and Country Club, 1800 Crossgate Drive. Tee-off times are 8 a.m. or 1:15 p.m., and the format will be a four-person shamble.
This year's committee set a goal to raise $115,000 in net proceeds to help enhance the quality of care at LMH. Since 1969, the Endowment Association has provided more than $20 million to Lawrence Memorial Hospital. Proceeds from previous year's events have helped LMH purchase equipment, technology, employee education, community education, wellness programs and charity care.
Dr. H.P. "Penny" Jones was a member of Lawrence's medical community for more than 60 years. He was born in Lawrence on June 8, 1906, and graduated from Lawrence High School, where he lettered in three sports and was senior class president. At Kansas University, he played basketball for Phog Allen. Jones completed a medical degree at Rosedale (now KU Medical Center), graduate study at Harvard and a two-year internship at Harvard Hospital. He returned to Lawrence in 1933 and joined his father, H.T. Jones, at his practice.
The registration fee is $175 per player. Player fees include golf, a putting contest, on-course skill prizes, a tournament gift, refreshments and an award ceremony. Breakfast and lunch will also be provided. Skill prizes will be awarded at every hole.
The registration deadline is Monday. Visit www.pennyjonesgolf.com for more information.
Copyright 2018 The Lawrence Journal-World. All rights reserved. This material may not be published, broadcast, rewritten or redistributed. We strive to uphold our values for every story published.