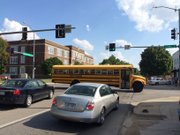 A woman was taken to Lawrence Memorial Hospital for minor injuries after a Lawrence school bus struck her Toyota Corolla at 14th and Massachusetts streets just before 4:30 p.m. Thursday. No one on the bus was hurt.
The bus was taking students home from Cordley Elementary at the time, Lawrence Public Schools Director of Communications Julie Boyle said.
Sgt. Laurie Powell with the Lawrence Police Department said the woman in the Toyota was driving northbound when she ran a red light at the intersection. The school bus was traveling west and had a green light when it struck the vehicle.
The driver's side of the Toyota appeared damaged. The school bus appeared to suffer minimal damage and was driven from the scene following the incident.
Cordley Elementary notified parents of the crash and of the delay in students returning home, Boyle said.
The Lawrence Police Department and Lawrence-Douglas County Fire Medical are investigating the crash.
Copyright 2018 The Lawrence Journal-World. All rights reserved. This material may not be published, broadcast, rewritten or redistributed. We strive to uphold our values for every story published.