Topeka — It took action by three of the state's highest-ranking elected officials, but a 92-year-old Johnson County woman has been declared eligible to vote in Kansas.
The State Election Board, which includes the lieutenant governor, secretary of state and attorney general, agreed Wednesday that even though Evelyn Howard of Shawnee could not produce a birth certificate or a passport to prove she is a U.S. citizen, her family bible and some old census records were sufficient for the state.
Howard was initially denied the right to register even though, according to her daughter Marilyn Hopkins, she had voted in Missouri all her adult life.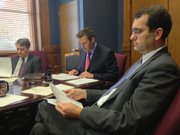 According to a letter Hopkins submitted to the board, her mother was born at a midwife's house in Schilling, Minn., on Feb. 9, 1922. After she was delivered, Hopkins wrote, the family "rode home in a horse drawn buggy with temperatures at 57 degrees below 0."
But because she was not born in a hospital, the state of Minnesota did not issue a birth certificate. And because she has never traveled outside the United States, she did not have a passport.
As a result, Hopkins mother became one of an estimated 18,000 Kansas residents whose registrations have been held "in suspense" because they could not comply with the state's new law requiring people registering to vote for the first time in their county to show proof of U.S. citizenship.
"She has always voted," Hopkins said of her mother, speaking by phone from Johnson County. "She feels like that's a responsibility and a duty that she has, and she has taught me in the same way to be a voter all of my years. And now that she has moved to Kansas, this is her first opportunity to vote and we find out she cannot vote because she doesn't have a birth certificate."
But Howard appealed the denial to the Election Board, making her only the third such person to do so since the law took effect last year. Both of the other two appeals also were approved.
In support of her appeal, Howard and her daughter submitted a copy of Howard's Missouri driver's license, a photocopied page from an old family bible listing her date and place of birth, and a hospital certificate of Marilyn's birth which lists Evelyn Howard as her mother, and census records that list Howard living in Missouri.
But even though some of the records were inconsistent — the hospital certificate lists Howard as being born in Lovedale, Minn., instead of Schilling, and the census records list her birthplace as Missouri — the Election Board agreed they were sufficient to show she was born in the U.S. and, thus, qualify her as a citizen.
"As I review the record that's in front of us, I have not observed any documentation submitted to us that is inconsistent with the conclusion that the applicant was born in Minnesota as she claims to have been," Attorney General Derek Schmidt said.
Schmidt also noted that even though Howard did not have a passport, the documents submitted would be sufficient for her to get one, and therefore should be considered sufficient to meet the Kansas voting requirement.
But the case highlighted the whole issue of the state's proof-of-citizenship requirement, which has become a central issue in this year's race for Secretary of State.
The law was passed at the urging of incumbent Secretary of State Kris Kobach, a Republican, who acknowledged it is the central issue in that race where he is being challenged by Democrat Jean Schodorf, a former Republican state senator from Wichita.
"I'm the person who brought the proof-of-citizenship requirement to Kansas law and am implementing it and defending it in court against the Obama administration, and my opponent, she opposes our proof-of-citizenship requirement," Kobach said.
Schodorf has said she thinks the law is unfair because it requires people to prove they are innocent before they are allowed to vote. She has said that if Kobach believes non-citizens are voting illegally, it should be his burden to prove that in court.
Copyright 2018 The Lawrence Journal-World. All rights reserved. This material may not be published, broadcast, rewritten or redistributed. We strive to uphold our values for every story published.