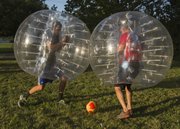 Bubble soccer is coming to Lawrence.
"We first kind of came across bubble soccer as a YouTube sensation that just kind of popped up on a whole bunch of people's Facebook feeds throughout the week, and we checked it out," said Ryan Robinson, president of Lawrence event-production company Silverback Enterprises. "It looked like it was something fun. It was just really something that just kind of sparked us to say, that, 'Hey, this is something the people of Lawrence would really like.'"
Games will be played on Tuesday and Wednesday nights in September. There is limited space remaining to put a team together for the league.
"The Tuesday night league is full, and that starts Sept. 9 down at Watson Park," Robinson said. "We do have spots still available for the Wednesday night league."
Each team will field five players and have one substitute. Although each game is only 20 minutes, Robinson said that the added element of the bubble — each player is enclosed, from the waist up, in a large, clear, inflated ball — provides different physical challenges that a regular soccer game does not.
"(The bubble) fully protects you, so you can bounce 10-20 feet, and you are not even feeling it. It is a workout, though," Robinson said. "That's one thing I do kind of tell people that surprised me the first time we jumped in as a staff and had a little league game of our own. It's quite the workout, but it's a ton of fun. One of the biggest reasons it's such a workout is because you're laughing the entire time."
With the tournament style of play, each team is guaranteed three games a night. The $40 league fee for each player includes a customized team uniform.
Robinson is encouraged by the number of teams already signed up and said he hoped Kansas University students returning to campus might be interested in forming teams to help bring the league to capacity.
"Anyone is welcome to sign up 16 and above," Robinson said. "What we've noticed in the past is a lot of sororities, fraternities are getting teams. A lot of downtown bars are getting into the action."
All games will take place at Watson Park, at the intersection of Sixth and Tennessee streets. Registration and additional league information is available at www.gosilverback.com.
Copyright 2018 The Lawrence Journal-World. All rights reserved. This material may not be published, broadcast, rewritten or redistributed. We strive to uphold our values for every story published.