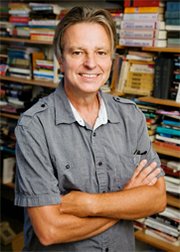 -->
Kansas University's Foundation Professor program is meant in part to encourage intermingling of academic disciplines as a way to hatch innovative ideas and research.
So it makes sense that the first Foundation Professor hired at KU was through the American Studies department, which blends history, literary studies, sociology, philosophy and a host of other subjects to explore the American identity.
David Roediger has spent his career looking through different perspectives at two of the most fundamental aspects of the American experience: race and class. In the fall Roediger will leave his position as a distinguished professor of history and African American Studies at the University of Illinois to join KU as a Foundation Professor.
Roediger said he entered his field after being influenced by the civil rights movement of the 1960s. Much of his scholarship deals with the issue of what it means to be white, and how the idea of whiteness developed. He was among the first white writers to tackle the subject.
His books include "How Race Survived U.S. History: From Settlement and Slavery to the Obama Phenomenon"; "Working Toward Whiteness: How America's Immigrants Became White"; and "The Wages of Whiteness: Race and the Making of the American Working Class."
Roediger has spent much of his life in the Midwest. He grew up in southern Illinois and earned his bachelor's degree from Northern Illinois University and his doctorate from Northwestern University. He has taught at Northwestern, the University of Missouri and University of Minnesota.
"I very much consider myself a Midwesterner," Roediger said. He said he's also proud, as the son of a public school teacher, to have made a career out of teaching at public universities.
Danny Anderson, dean of the KU College of Liberal Arts and Sciences, said Roediger has a track record of driving collaborative projects and attracting diverse graduate students to work with him.
With the Foundation Professors, who will also be distinguished professors, KU hopes to attract leading scholars who can help establish multidisciplinary networks of researchers and teachers. The initiative is also meant to work in tandem with KU "cluster hires," a plan to bring in dozens of faculty from various disciplines to study big issues such as energy and child development.
In Roediger's case, he will likely help develop the Joint Center on Inequality and Social Justice, a proposed KU project that would direct resources to thinking about social issues such as educational equality, healthcare, human migration and law.
"We're playing to our strengths," KU Provost Jeff Vitter said. "In each case there's a strong justification for KU to hire the very best and show it could have tremendous impact."
The Foundation Professors initiative is funded through the state and has a budget of $3 million a year to pay professors' salaries. Three out of a planned 12 professors have been hired: Roediger; Chris Beard, who will serve in the ecology and evolutionary biology department and Biodiversity Center; and William Picking, who will serve in pharmaceutical chemistry.
Roediger, Beard and Picking will make $200,000, $180,000 and $150,000, respectively, according to KU Public Affairs.
Copyright 2018 The Lawrence Journal-World. All rights reserved. This material may not be published, broadcast, rewritten or redistributed. We strive to uphold our values for every story published.