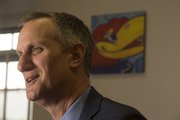 -->
Robert Simari first walked down the hill between the campanile and Memorial Stadium in 1986.
At the time, he was a graduating medical student at Kansas University who sat in the back of the class and gained a reputation as a bright doctor-to-be with a promising future.
In May 2014, nearly 30 years later, he walked down the hill again. This time, as the new dean of the medical school, Simari walked down in the company of Kansas University Chancellor Bernadette Gray-Little, and he was the one to hood KU's newly graduated medical students.
For Simari, it was a surreal and deeply gratifying homecoming.
Return to Kansas
Simari started this spring as executive dean of the KU School of Medicine. KU picked him after a national search for a permanent replacement for Barbara Atkinson, who retired from the dean position in the summer 2012.
KU hired a longtime Kansan in Simari, who moved with his family to Overland Park when he was 10 and graduated from Shawnee Mission West High School in 1978. He would go on to Notre Dame for his bachelor's degree before returning to Kansas for medical school.
After graduating from KU, where he met his wife, Kelly, Simari left for Harvard-affiliated Beth Israel Hospital in Boston for residency, followed by the Mayo Clinic in Rochester, Minn.
At the Mayo Clinic, he trained as a fellow in cardiovascular diseases and interventional cardiology and would, after a postdoctoral fellowship, go on to join the faculty.
Prior to taking the dean job at KU, Simari was a professor of medicine at the Mayo Clinic as well as vice chairman of the clinic's Division of Cardiovascular Diseases and co-director of the Mayo Center for Clinical and Translational Sciences, the clinic's largest research center.
Big celebrations at the med school
So far, the KU dean job has consisted largely of a marathon of introductions, as well as some major celebrations for the school.
As top leader of the KU medical school, Simari oversees the Kansas City, Wichita and Salina campuses and more than 40 departments and centers representing different types of science, medicine and specialities.
"It takes some time to get to all the departments on all three campuses. If I meet with two hours with a department chair, that's two weeks of work," Simari said. "The good news is there's no burning platforms. The institution has been under strong leadership and has very strong support. I've had the luxury of taking some time."
Along with meeting with school insiders, Simari and the KU Medical Center have hosted some big-name guests to announce some big news.
In Simari's first semester on the job, Gov. Sam Brownback visited to announce $25 million in state bond support for a long-sought expansion to the KU Medical Center. That was followed by another major announcement and celebration in May, this one for the Hall Family Foundation's $25 million gift toward the planned facility.
Both were big gets for the school and could change the face of campus and health education at KU during Simari's time there. The medical center expects the new facility would allow it to train an additional 50 students each year and will come equipped with new technology and classroom formats to update health education at KU for modern models of teaching.
Much of the groundwork for both the state support and Hall gift were in place well before Simari arrived, but he has already been out working to raise more money to meet the project's full budget of $75 million.
And the effort to woo donors probably won't end anytime soon, especially with possible future expansions at the Wichita and Salina campuses on the horizon. Fundraising is a big part of any dean job, and it's one which the affable Simari says he enjoys.
Challenging times
While the school has seen some big financial victories in recent months, the overall funding climate is still uncertain, with decreased support of higher education at the state level and cuts to research at the federal level in recent years.
Amid what Simari describes as "challenging financial times," he's looking to streamline the medical center by creating more integrated and coordinated teams out of the many medical center and KU hospital units.
"You can't manage a large organization by breaking it down into constituent parts and having them try to do the best they can locally," he said. "It will be chaos."
Another priority for him is improving the state's public health outcomes, which haven't always followed the successes of the medical center.
In fact, as Simari himself points out, Wyandotte County, home to the KU Medical Center's main campus, has the highest infant death rate in the state.
"It's not right that those two things should coexist," he said.
Reversing that trend is yet one more item on a long and far-reaching to-do list for Simari and the school.
Copyright 2018 The Lawrence Journal-World. All rights reserved. This material may not be published, broadcast, rewritten or redistributed. We strive to uphold our values for every story published.