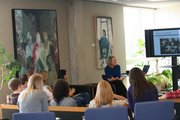 -->
When Natasha Kothari was in high school, her college dreams were set in an Ivy League school.
"KU was my last choice," said Kothari who went to Blue Valley Northwest High School in Overland Park. "Too close to home."
But financial considerations brought her to KU. She was dragging her feet at student orientation when her Honors Program advisor brought up something Kothari had written in her college application essay.
That personal touch, combined with high-quality classes and consistent advising in the KU Honors Program, made Kothari's college experience everything she had hoped it would be.
"I firmly believe that I could not have gotten the experience I got here anywhere else," said Kothari, who graduated in May with a degree in psychology.
Emma Halling, a senior, had a similar experience. From Elkhart, Ind., Halling thought she was headed to an East Coast school, but after taking a tour of KU with a representative from the Honors Program office, she changed her mind.
"You have this university with 25,000 people with a lot of opportunities, but you also have the personal attention of a small program," said Halling, who is planning to get a law degree and then a master's in public policy.
Expansion of KU's Honors Program has become a major goal of the school's administration.
There are currently about 1,400 students in the program, with about 380 freshmen expected this year. The goal is to enroll 400 freshmen each year into the program. Just two years ago, there were about 250 freshmen entering the program each year.
The growth is "really exciting," said C. Bryan Young, the director of the program who just took over June 1.
And the program's growth has occurred without a decrease in student quality, Young said. The incoming honors program class in 2013 had an average ACT score of 31.4.
"We are trying to go toe-to-toe with universities across the country to recruit the best students," said Young, an associate professor of civil, environmental and architectural engineering.
"The ultimate goal is to provide a tight-knit, small community of like-minded students, top-notch faculty and dedicated staff to try to provide the feel and look of a small liberal arts college within the larger university setting," he said.
The Honors Program offers about 125 courses, most of them at the freshmen and sophomore level, grants to students and strong advising.
Young said having a vibrant Honors Program is important to both the university and state of Kansas.
"It helps us recruit top-notch students from across the country, and especially across the Midwest, to Kansas. These are students who will develop strong ties to Kansas and hopefully decide to put down roots here and help grow the economy of the state," he said.
In her honors classes, Kothari said she received the kind of attention from her professors that small colleges provide while she was able to take advantage of what a large research university has to offer.
"Here, you get the best of both worlds," she said.
Copyright 2018 The Lawrence Journal-World. All rights reserved. This material may not be published, broadcast, rewritten or redistributed. We strive to uphold our values for every story published.