Ottawa — The aunt of the 18-year-old Ottawa man who was killed by authorities said on Sunday her nephew suffered from a range of medical issues and wanted officers to take his life.
Officers with the Ottawa Police Department were dispatched to the Orscheln's Farm and Home parking lot, 2008 S. Princeton St. in Ottawa, in response to "a person reportedly armed with a gun" at approximately 7:50 p.m. on Saturday, Cpt. Adam Weingartner said in a news release.
Responding officers, including deputies with the Franklin County Sheriff's Office, made contact with the person, later identified as Joseph Jennings, in the parking lot. A shooting took place during the encounter, and Jennings was eventually transported to Ransom Memorial Hospital where he died, Weingartner said.
Brandy Smith, Jennings' aunt, who lives within eyesight of the shooting scene, said she witnessed the incident. She did not see Jennings holding a gun and said that if he did have one on him, it would have been a BB gun.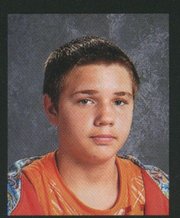 She said she and her husband could have diffused the situation if she had been allowed to talk to Jennings.
Jennings' foster father said his son was approaching authorities when he was shot. William Bruton told KAKE-TV that Jennings was shot in his chest and legs.
Witness Houston Harris says officers had their weapons drawn and told Jennings to "get down."
The Kansas Bureau of Investigation is handling the investigation of the incident, according to the news release. Officers involved in the shooting have been placed on administrative leave while KBI conducts the investigation. Both actions are a "matter of policy," Weingartner said.
At a press conference Sunday afternoon, a recording of which was provided to the Journal-World by KOFO radio station in Ottawa, Franklin County Attorney Stephen Hunting said an autopsy would be performed Sunday.
He said that detailed information on what precipitated the shooting would not be released until after the investigation.
"We want to be as transparent as we can with the public," Hunting said. "At the same time, we will not be releasing a significant amount of detail about what occurred at this point, for the simple fact that the investigation's ongoing."
Citing exhaustion, Smith declined to give detailed information on what led to the shooting in a brief interview with the Journal-World.
She called the officers' use of force "ridiculous" but also said she would let the ensuing investigation decide if it was justified.
Jennings lived with Smith off and on. He battled seizures, migraines, depression and other conditions his whole life, Smith said.
Twelve hours before the shooting, Smith said, Jennings attempted suicide at Smith's home. He had been out of the hospital for three hours before the confrontation with the authorities, she said.
According to Smith, two officers who responded to the failed suicide were present at Orscheln's parking lot.
A graduate of Oskaloosa High School, Jennings was supposed to begin school at Neosho County Community College on Monday.
"He was very intelligent, loved animals and his family," Smith said. "He will be missed."
At the Sunday press conference, Ottawa police Chief Dennis Butler said, "On behalf of the members of the Ottawa Police Department, we mourn the loss of any life. We extend our heartfelt condolences and compassion to the family of Mr. Jennings."
Generally speaking, Butler said police can use "force" when officers and other civilians are, or believe to be, in imminent danger.
Orscheln employees declined to comment on the incident.
Copyright 2018 The Lawrence Journal-World. All rights reserved. This material may not be published, broadcast, rewritten or redistributed. We strive to uphold our values for every story published.