Wichita — After getting beaten up over the last several election cycles over the federal health reform law commonly known as Obamacare, Kansas Democrats adopted a platform that defends the law and calls for full implementation in the state, including expansion of Medicaid.
And some Democrats think they've found a weapon to use to fight back with in the health reform debate, Gov. Sam Brownback's own health care policies — such as privatizing Medicaid and authorizing a health care compact to take over administration of federal health care programs — which they now refer to collectively as "BrownbackCare."
"BrownbackCare is built on denying people affordable medical care, and takes the well being of millions of Kansans and our senior citizens, and makes it a blank check made out to our governor," said Dennis Anderson, the Democratic candidate for insurance commissioner.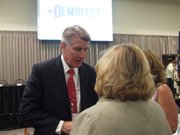 Polls still show that the new law — or at least the word "Obamacare," a Republican-generated nickname for the Patient Protection and Affordabe Care Act — remains unpopular in Kansas.
But state party chairwoman Joan Wagnon said the party believes those numbers can be turned around when people learn about the benefits of the law.
"I don't know how you start doing that if you don't start talking about its benefits," Wagnon said.
The party platform, adopted Friday at the state party's annual DemoFest convention in Wichita, includes a list of benefits the law has provided, such as allowing parents to carry their children on family policies up to age 26 and requiring insurance companies to provide coverage despite a person's pre-existing conditions.
"However, certain provisions that make the ACA workable have not been enacted in Kansas — notably the expansion of Medicaid coverage to thousands of eligible persons. Kansas Democrats will work to expand Medicaid coverage in Kansas," the platform states.
"One of the comments when we were putting our platform together was, we've got to stop running away from the Affordable Care Act," Wagnon said.
"When they understand the number of uninsured in Kansas is going up instead of down, and when they understand how many millions (of dollars) were given back because premiums were lowered because of the Affordable Care Act, they're going to figure out, hey, something good happened," Wagnon said. "And it did, and I am tired of making excuses for it."
In 2012, though, Gov. Sam Brownback and his conservative allies successfully used Obamacare as a weapon to attack moderate Reublicans and take firm control of the Kansas Senate. Since then, Brownback has repeatedly tagged his Democratic challenger, Rep. Paul Davis of Lawrence, as an "Obama-style Democrat" and criticized Davis' support for the health reform law.
"Paul Davis has been fighting for Obamacare in Kansas for years so the announcement of Paul's embrace of Obamacare at Demofest is no surprise," Brownback spokesman John Milburn said.
But Davis, who has been less vocal than others about his support for the law, said he wasn't concerned about Republican criticisms this year.
"This is a state race here," Davis said Saturday. "Obamacare was enacted in Washington, D.C., and I'm not running for a job in Washington, D.C. We have issues that we've got to deal with at the state level and I've been up front about why I think expanding Medicaid (an option allowed under the federal law) is the right thing for the state."
The law established a mandate that most individuals carry health coverage that meets minimum standards or else pay a tax penalty. It also mandates employers with 50 or more full-time workers provide health coverage or pay a tax penalty.
It also provides funding for states to expand eligibility for Medicaid, the joint federal and state health insurance program for the poor, to cover all individuals and families with incomes up to 138 percent of the poverty level. And for those with incomes above that level who cannot buy affordable coverage through their employers, it establishes marketplaces called "exchanges" where people can buy subsidized policies.
The Brownback administration has opted not to expand Medicaid eligibility in Kansas. And early in his administration, the governor returned a large federal grant the state had received to set up a state-based insurance exchange.
Still, according to the U.S. Department of Health and Human Services, more than 57,000 Kansans had purchased insurance through the federal exchange as of March 31. And officials estimate another 100,000 would gain coverage if Kansas expanded Medicaid, as allowed under the law.
Anderson, the insurance commissioner candidate, criticized Brownback's program to privatize the state Medicaid program, which is now known as KanCare, as well as a bill passed this spring establishing a multi-state health care compact that would enable member states to administer all the federal health care dollars spent in those states, including Medicare, the federal health insurance program for the elderly.
"BrownbackCare would take the money that's allocated for Medicare — the guaranteed benefits that nearly 450,000 of our senior citizens rely upon – and put it in Brownback's pocket to do with as he sees fit," Anderson said.
"We can only assume, as with the example of KanCare, that he would turn it over to several private companies in Topeka and manage it — maybe even the same three companies that have not been able to file a claim on time in any month during the year 2013."
Anderson faces Republican nominee Ken Selzer in the insurance commissioner race. Selzer has said he opposes the law and opposes expanding Medicaid in Kansas.
Copyright 2018 The Lawrence Journal-World. All rights reserved. This material may not be published, broadcast, rewritten or redistributed. We strive to uphold our values for every story published.