Photo Gallery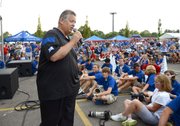 Kansas football kickoff rally
Prairie Village — Kansas University football coach Charlie Weis didn't have to use the words "bowl game" to fire up a parking lot full of crimson-and-blue-clad supporters Friday evening at Corinth Square.
He let the fans at the KU Kickoff event dissect his rallying points and read between the lines.
"I'm not dumb enough to make my own predictions, because if I do, they're on the bottom line of ESPN, and that's a fact," the third-year Kansas coach said, before adding: "Our players expect to be playing in December."
The remark drew the largest response out of the crowd on a muggy August night, a full three months before the end of the regular season, when the Jayhawks will know for certain whether they will be bowl-eligible for the first time since 2008.
"There are guys who have been in this program for four or five years that haven't tasted success in December," Weis said. "Well, that's our players' goal."
Weis challenged fans to attend KU's three September home games at Memorial Stadium and watch the road opener at Duke.
"You give me September," he said, "and I'm gonna give you a reason to come in October and November. Fair enough?"
Weis has attended enough Kansas basketball games to trust the university's fan base. He said the Jayhawks could draw 16,000-plus for a game against Hoboken Tech.
"It's not a question if whether they'll root for you or not," the coach told media before addressing the crowd. "For them to keep on showing up and show up on a regular basis, you've gotta give them a reason."
Behind Bishop Miege product Montell Cozart, the team's starting sophomore quarterback, Weis expects a "drastically improved" product.
"Unlike the last two teams I've been on," Weis said, referring to his 4-20 overall record in two seasons, "I finally have enough guys who I don't have to say anything to, and their expectations and my expectations are the same."
Copyright 2018 The Lawrence Journal-World. All rights reserved. This material may not be published, broadcast, rewritten or redistributed. We strive to uphold our values for every story published.