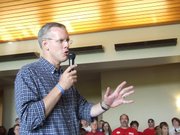 Wichita — Kansas Democrats are pinning much of their hopes in the 2014 elections on the belief that voters want to see more funding for public schools, and that most are disappointed with Republican Gov. Sam Brownback's track record on education.
Nowhere was that more evident this weekend than in gubernatorial candidate Paul Davis' keynote speech to the party's annual DemoFest convention in Wichita.
"We have a moral obligation to provide our children with the very best public education possible," Davis, of Lawrence, told more than 200 people who paid $85 a plate to hear him speak at a party banquet in a downtown Wichita hotel. "Kansans know that strong schools are the very foundation of a strong economy."
The focus on education is also part of the party's overall strategy to regain significant influence in the Republican-dominated Legislature. Earlier in the day, the party held a rally to showcase its candidates for the Kansas House.
Many of the candidates the party recruited this year are current or former teachers campaigning not just on the issue of school funding but also on the Legislature's repeal this year of teacher tenure rights.
"I'm mad as hell, and I'm not going to take it anymore," said Charles Jenney, a Wichita teacher and Democrat hoping to unseat Republican Mark Kahrs in the 87th House district. "My entire career, the state Legislature has violated the constitution of the state of Kansas and underfunded education, including several years when my salary was frozen."
Brownback has countered those criticisms, arguing that total education funding has increased during his administration to record levels. That calculation includes increased funding for the Kansas Public Employees Retirement System, which manages school employee pensions, as well as funding ordered this year by the Kansas Supreme Court when it declared the previous funding levels for lower-wealth districts were unconstitutional.
During an interview after the banquet, Davis acknowledged that even if he is elected governor — he currently leads in most public opinion polls — he will face an uphill battle with the Legislature. Currently, both the House and Senate are firmly controlled by conservative Republicans loyal to Brownback, and the Senate will not change because it is not up for election this year.
"I'm going to do the best I can to work with them to find common ground," Davis said. "If we are successful in this campaign, I think the tone in Topeka is going to change, and the folks that are on the more conservative side are going to be more willing to work with us."
Besides pushing for more education funding, state Democrats also adopted a platform outlining positions on a range of issues including support for expanding Medicaid, recognizing same-sex marriage and legalizing medical marijuana.
On the issue of taxes, however, their platform expresses opposition to the philosophy behind Brownback's historic cuts in income taxes but avoids any specific discussion of which tax cuts its members would like to repeal.
"Kansas Democrats ... favor restoration of the 'three-legged stool' concept of having a balance among income, sales and property taxes," the platform states. "This balanced approach to taxation has protected the state during economic downturns and has provided sufficient revenue for decades to fund education suitably and to meet the other primary needs of the state."
Copyright 2018 The Lawrence Journal-World. All rights reserved. This material may not be published, broadcast, rewritten or redistributed. We strive to uphold our values for every story published.