Nothing strikes fear in the hearts of pet owners more than THE DREADED NAIL TRIM. It is a necessary but often terrifying event in which both pet and owner wage a battle of wills that frequently results in hurt feelings, wounded pride and physical trauma.
Although there is nothing that can replace practice, there are a few things that can be done to ease the difficulty of performing this unpopular task at home.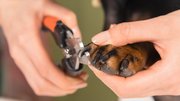 Start young if you can
Begin with regular nail trims with your pet when they are young. This can really help your pet accept the process.
Touch their paws regularly, especially when you are having a good time together.
Hold and massage the paws casually and routinely anytime you are together. This is an easy activity for both of you and will accustom your friend to having his or her paws touched. Difficulties of nail trimming often have as much to do with a dislike of having the paws handled as they do with the nail trim itself.
Go slow
If you are trimming your pet's nails for the first time and do not know how he or she will react, go slowly, hold their paw gently and watch their body language. Having another person there to provide gentle restraint can help. For some pets, gentle restraint and a little distraction may be sufficient.
Know what you are looking at
Toe nails have blood vessels and nerves in them called the quick. The nail should only be trimmed up to the edge of quick or the nail will bleed and the trim will hurt. The quick is easy to identify in animals with white nails. It is the pink area containing the blood supply and is easily distinguished from the white portion. Simply trim off the white portion of the nail.
Black nails are more difficult to trim because it is impossible to see the quick through the nail. For these nails, use the trimmers to gently shave away the end of the nail. The tip of the nail will appear dry. When the nail appears waxy and moist at the tip you know that you are approaching the quick and should stop the trim.
Have the right equipment
When you begin, make sure you buy some good-quality nail trimmers appropriate for your pet. Have some special powder, called styptic powder, that helps stop the bleeding ready to press on to the nail in case you accidentally cut the quick. If this happens, don't panic — your pet will be fine!
Know when to quit and ask for a demonstration
Some animals will not allow a nail trim at home. If your pet is so difficult that the situation becomes dangerous then just have it done at your vet's office.
Your veterinarian would certainly be happy to give you a lesson on how to do a nail trim. Getting some personal training can help you learn how to get this most unsavory chore done and keep you and your pet on speaking terms.
— Jennifer Stone is the medical director and staff veterinarian at the Lawrence Humane Society. She received her doctorate in veterinary medicine from the University of Illinois at Urbana-Champaign and has been a shelter veterinarian for more than a decade. She loves Lawrence and is excited to have the opportunity to establish the Lawrence Humane Society as one of the best shelters in Kansas.
Copyright 2018 The Lawrence Journal-World. All rights reserved. This material may not be published, broadcast, rewritten or redistributed. We strive to uphold our values for every story published.