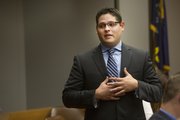 Justin P. Gonzalez was sentenced Tuesday to 32 months in prison after being convicted in June of involuntary manslaughter in the 2012 death of Nicholas Sardina.
Gonzalez, 23, of Mission, hit Sardina, 27, of Lawrence, over the head with a beer bottle during a brawl at a party in the 300 block of West 14th Street in the early morning hours of Feb. 25, 2012. Gonzalez had argued that he was trying to protect a friend under attack by Sardina. Prosecutors said Gonzalez used excessive force in striking Sardina, who later died from his injuries.
The first trial in December ended in a hung jury. The retrial ended June 5 with a conviction for Gonzalez.
At the sentencing hearing, family and friends of both Gonzalez and Sardina filled the courtroom to near capacity.
Gonzalez's attorney, Sarah Swain, had asked for probation for Gonzalez, which was ultimately denied by Douglas County District Court Judge Peggy Kittel. In arguments for probation, Swain pointed to her client's lack of criminal history and his good behavior following the incident.
"This is not about what is best for Mr. Sardina's family or Mr. Gonzalez's family; this is about what is best for the community," Swain said. "Justin Gonzalez makes the community better."
Gonzalez recently completed an internship with an accounting firm and has since gained full-time employment, which he received "even in the midst of the charges," Swain said.
But Assistant District Attorney James McCabria argued that Gonzalez should receive a prison sentence.
Kittel said the court had received more than 100 letters of support for both Gonzalez and Sardina. McCabria said after reviewing the letters he was taken by the way Gonzalez's supporters viewed the fight.
"What struck me was the tone that characterized the death as an accident," McCabria said. "The defendant intended to harm Mr. Sardina."
While arguing for a prison sentence, McCabria said Gonzalez had spent less than 24 hours in jail following his arrest.
"Mr. Gonzalez has gone his whole life without serving a single day in prison as his friends and family tell him it was an accident," McCabria said.
Before Kittel sentenced Gonzalez, Sardina's family made statements to the court about the pain they endured following Sardina's death.
While addressing the court, Sardina's stepfather, David Forsyth, talked about the "worst day of his life" when he learned of Sardina's death and "came home to (Sardina's mother) Kathleen lying on the floor crying." During his statement, Forsyth began to cry and individually addressed Gonzalez.
"Justin, these are real tears," Forsyth said. "This is what it looks like to miss somebody."
Forsyth criticized Gonzalez's perceived lack of empathy and implored Kittel to consider Sardina's family in her sentencing decision.
"If you're thinking about probation because maybe Justin's family needs it, well, Nicholas's family needs (a prison sentence)," Forsyth told Kittel. "Please remember, Your Honor, that Nick is the victim."
Gonzalez had the opportunity to address the court in regard to his sentencing, but after hearing Sardina's family's statements, Gonzalez was struck with emotion.
"I had a speech prepared, but after hearing from you, there is nothing I can say that can resolve any of this. You're going to hate me for the rest of your life," Gonzalez said to the family. "There are no words — nothing on this piece of paper is going to help this situation."
Gonzalez looked at the pictures from Sardina's life positioned around the courtroom by prosecutors and thanked Sardina's family through tears.
"I haven't heard anything about (Sardina), so thank you for bringing these pictures," Gonzalez said. "I only hear what is said between these two tables," referring to the prosecution and defense tables.
"I could bring up my job, but at this point, I don't know," Gonzalez told Sardina's family members. "Every day I wake up, I think about him. I don't know if I can describe to anyone what it feels to have another man's life on your conscience."
Kittel noted the intensity of the case, but ultimately sided with the prosecution.
"This is obviously a very emotional case," Kittel said. "This court has never seen such an outpouring of support."
Kittel said Gonzalez will also have to register as a public offender and will have 24 months of post-release supervision after he finishes his prison sentence.
Swain said she plans to file documents Wednesday to appeal the case to the Kansas Court of Appeals.
Copyright 2018 The Lawrence Journal-World. All rights reserved. This material may not be published, broadcast, rewritten or redistributed. We strive to uphold our values for every story published.